On Friday September 12th, APU celebrated its 2008 Fall Graduation Ceremony. Over 700 students, family and friends gathered to celebrate with the 313 graduates from 30 countries and regions, as they embarked on a new and exciting chapter in their lives.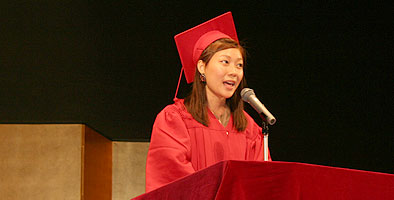 APU President, Mr. Monte CASSIM encouraged the new graduates in his opening greeting: "Keep with you the values of justice, of caring for and sharing with others.Take with you the memories of this campus, the city and region, your peers, your mentors and perhaps most importantly, the warmth and friendship extended by the community around you. Your life may take you deep beyond your comfort zone. In that case, draw courage and strength from the friendship you experienced at this multicultural campus".




Then, following the awarding of degree certificates to four PhD graduates and the representatives of each college and graduate school, the recipient of the Ando Momofuku Honor Scholarship, Ms. MINGKAMOLRAT Ekpira (APM, Thailand), gave a speech on behalf of all graduating students stating:"Today I feel APU has given us more than a degree. It has given us immense opportunities and tools to shape our values and characters. It has provided us with a true multicultural learning environment and a world-class experience".


Then, speaking on behalf of the graduate school students, Ms. NGUYEN Thi Thu Thao (GSMM, Vietnam) proudly exclaimed:"Our experiences here will surely contribute to our achievements in the future. Whatever you do in the future always lend a hand to those who are suffering, as people have supported us".

Finally, the ceremony concluded with the graduates tossing their caps high into the air of the auditorium, and as they face the beginning of a new chapter in their lives, the graduates leave with fond memories and experiences of APU to pursue further study or career opportunities.