On Wednesday November 5, the "Japanese Speech Contest for Foreigners" was held at Yoshikan High School, Oita City, in which ANAND Dhruv (APM4, India) and AMARSANAA Bolar (APM4, Mongolia) won the Outstanding Performance Award and The Yomiuri Shimbun Seibu Prize respectively.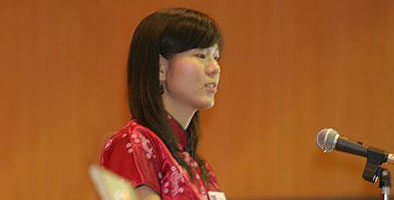 Mr. ANAND spoke about achieving peace through communication in his speech entitled "Language and Peace" and Ms. AMARSANAA spoke about the greatness of the Japanese culture with its sense of "what a waste!" in her speech entitled "Experiences in Japan and my Future"
ANAND Dhruv spoke of his happiness at receiving the Outstanding Performance Award "This was a very valuable opportunity to confirm my level of Japanese proficiency. As this was my first Japanese speech contest I was a bit nervous but I am happy that I was awarded the Outstanding Performance Award. I hope that if ever there are further contests like this in the future that everyone participates as well."
Winner of the Yomiuri Shimbun Seibu Prize, AMARSANAA Bolar spoke of her ambitions for the future "I feel have been able to produce a result which reflects all the practice I put in. Also I think that this was a good experience to think about a range of things. This prize has inspired me to study the Japanese language more and to learn more about the Japanese culture."
This was the 6th "Japanese Speech Contest for Foreigners". Sixteen foreigners from 10 countries who have lived in Japan for less than 5 years were chosen out of the 26 applicants by a manuscript screening. Yoshikan High School students were also there to listen to the speeches and were surprised with the foreigner's smooth Japanese.