APM Mission
The Mission of the College of International Management (APM) is to cultivate human resources with strong business ethics that will play an active role in resolving management issues at globalizing enterprises and other organizations by imparting fundamental knowledge in management, enhancing intercultural communication skills and upholding cultural diversity.
Degree
Bachelor of Business Administration
*Once students registered for their Area of Study and have completed 12 or more credits from among the designated subjects for the Area of Study, the name of that Area of Study will be noted on their diploma.
Duration
4 years with normal study mode, 3 or 3.5 years with Accelerated Graduation Program
Areas of study
Strategic Management & Organization
To ensure lasting development, industry must set goals that are ultimately beneficial to society. To achieve those goals, organizations need to engage in activities according to a range of ever changing principles and methods. This course is geared towards those who want to become leaders in the world of business and even for students planning to take over their family business.
Marketing
In basic terms, students will learn how to provide products and services to the market. Focusing on how much of something to provide at what cost, utilizing the best possible methods. This course aims to develop experts who can manage from the production to consumer phase and particularly suited to those who want to be globally-oriented businesspersons.
Accounting & Finance
The health of corporate activity is more or less judged by the ebb and flow of money. This is the basis of accounting. Finance on the other hand, is a field concerned with raising and managing the funds necessary for corporate activity. The Accounting and Finance course here at APU will supply you with a good knowledge of both disciplines to be able to use them in your future international career.
Innovation & Economics
Innovation and efficient production control are the driving forces of corporate growth. Students will learn what generates innovation, what efficient production control entails, and about the economic foundations that underlie these concepts. The course is particularly geared toward those who wish to contribute to national development as either a businessperson or policymaker.
AACSB International Accreditation
College of International Management and Graduate School of Management are accredited by AACSB (The Association to Advance Collegiate Schools of Business) - an internationally recognized organization evaluating the business schools.
Click here for details
Student Data for the College of International Management
Student Data in AY2016 and AY2017
Student Data
AY2016
AY2017
Enrollement
345 (Apr 2016)
235 (Sep 2016)
390 (Apr 2017)
273 (Sep 2017)
The total number of Student
2687 (Nov 2016)
2687 (Nov 2017)
The number of Nationality
68 (Nov 2016)
56 (NOv 2017)
The number of Graduates
248 (Sep 2016)
344 (Mar 2017)
273 (Sep 2017)
305 (Mar 2018)
The number of graduates who completed within standard course term
502 (84%)
501 (87%)
Job offer acceptance rate
97%
97%
Employment Results for recent graduates
Employment by major industry sector in AY2017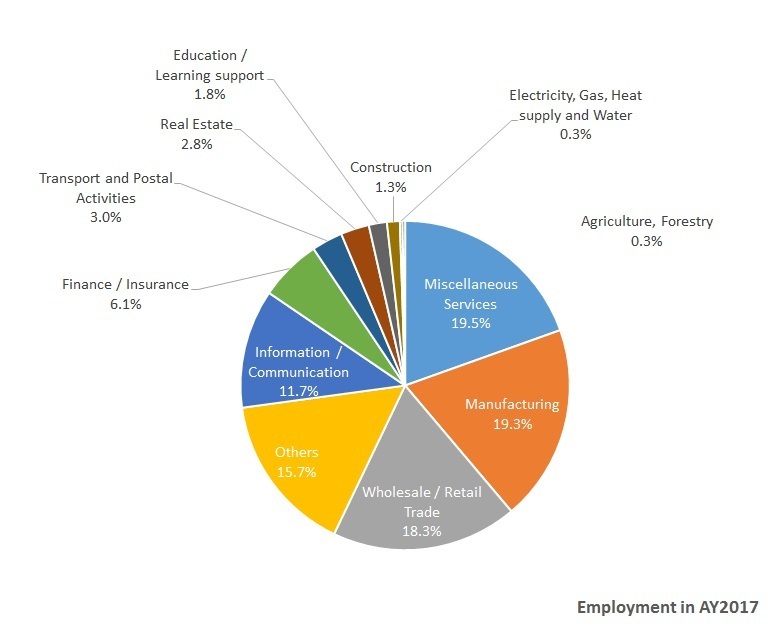 List of Major Employers in AY2017 (In alphabet order)

Accenture Japan Ltd
Aioi Nissay Dowa Insurance Co., Ltd.
Aisin Seiki Co., Ltd.
AJINOMOTO CO.,INC
Credit Saison Co.,Ltd.
CyberAgent, Inc.
Daiwa Institute of Research Ltd.
DENSO CORPORATION
FUJI SOFT INCORPORATED
Fuji Xerox Co., Ltd.
FUJITSU LIMITED
GS Yuasa Corporation
Hitachi Chemical Company, Ltd.
INTEC Inc.
Isuzu Motors Limited
ITOCHU Corporation

KONICA MINOLTA, INC.
KYOCERA Communication Systems Co., Ltd.
Lawson, Inc.
Marubeni Corporation
Mitsubishi UFJ Morgan Stanley Securities Co., Ltd.
Mitsui Chemicals, Inc.
NISSAN MOTOR CO.,LTD.
NITORI Co., Ltd.
NTT DOCOMO, INC.
OKASAN SECURITIES CO., LTD.
Panasonic Corporation
Rakuten, Inc.
Recruit Jobs Co., Ltd.
Resona Bank, Limited.
Resona Holdings, Inc

Ryohin Keikaku Co.,Ltd.
Sekisui House, Ltd.
Sojitz Corporation
Sony Corporation
State Street Trust and Banking Company, Ltd.
Sumitomo Mitsui Banking Corporation.
Sumitomo Mitsui Trust Bank, Limited
The Bank of Fukuoka, Ltd
The Dai-ichi Life Insurance Company, Limited
UNIQLO CO., LTD.
YAMATO TRANSPORT CO., LTD.
YAMAZAKI BAKING CO.,LTD.