Dec 25, 2008
Professor SUZUKI Koji gives a lecture at a RCAPS Seminar:
On Wednesday December 24, a RCAPS sponsored seminar was held at APU.
The seminar welcomed Professor SUZUKI Koji , Professor, APM. His lecture was titled "How to teach FDI business In Asia -case of Brother Industries in Asia-"
At MBA classes in APU, companies being studied are mainly major companies in America, Europe or Japan. However, this is not sufficient for students who will be returning to their own countries. They will not be able to apply most of what they have learned. Instead, focusing on countries in Asia, such as China, Vietnam, Thailand, etc. will be more profitable to the students as it will cover their home ground, as well as provide better management know-how that best fits their own country.
This seminar will show some ideas and proposals on how to teach FDI Business in Asia using Brother Co. as a case study, and at the same time motivate students and help provide ideas in job hunting.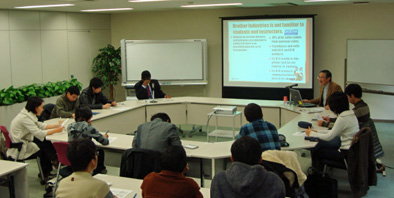 TOPIC

セミナー