Jul 26, 2011
Mr.ISHII, Foreign Policy Bureau gives an RCAPS Seminar:
On Wednesday, July 6, 2011, Mr. Masafumi ISHII, Deputy Director – General, Foreign Policy Bureau delivered an Ritsumeikan Center for Asia Pacific Studies (RCAPS) seminar entitled "Strategic Panorama - What are the Main Trends in the Region and What Should be Done Today for the Stability and Prosperity of the Region in 20 Years?".
The seminar provided information about Japan's future over the next 20 years along with major regional players such as the USA, China, Russia, Korea, India, and ASEAN countries.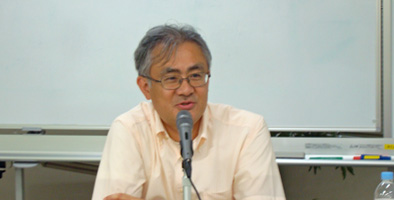 Mr. ISHII first spoke about the major trends happening in Japan and around the world and touched on recent economic and environmental problems, the current financial crisis, and the internal and external relationships between declining and growing powers amongst advanced and developing countries.
Furthermore, Mr. ISHII spoke about the policy goals that Japan and its neighboring countries can have to ensure the stability and prosperity of the region over the next 20 years. He highlighted three keywords: "linchpin, networks and rule making" to describe the new approaches.
He suggested that Japan's role as a linchpin for the U.S. engagement in the region will help the region as a whole to build a more stable security environment. Another approach he proposed was for Japan to be a catalyst for creating multilateral networks with countries such as Australia, Korea and India. Lastly, he emphasized the need to promote policies to create rules that overcome the difference among countries in the region.
The seminar ended with a Q&A from APU students. Questions included those about Japan – Russia relations and the position of the Vietnamese government in the next 20 years.
Reporter, Student Press Assistant (SPA):VEGAFRIA Elaine Cruz (APM2, Philippines)
TOPIC

セミナー