Jul 26, 2011
Mr. Junanto Herdiawan (Bank Indonesia) and Prof. Honna Jun (Ritsumeikan University) gives an RCAPS Seminar:
On Friday, July 15, 2011, the 2nd Seminar of Indonesia was held under the theme "Locating Indonesia's Role in the Asia Pacific's Economy and Security Dynamics".
Organized by the Ritsumeikan APU Indonesia Society (APUIna) and RCAPS, this seminar discussed a variety of issues related to economic and security affairs in Indonesia, Asia Pacific and beyond. This seminar, which was conducted for the second time, has become an annual event.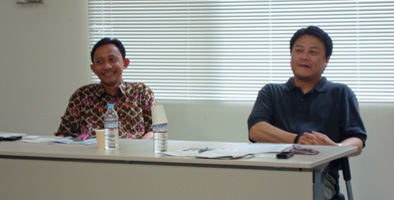 This seminar invited two prominent speakers, Mr. Junanto Herdiawan, a senior economist from the Central Bank of Indonesia, Tokyo Representative Office, and Professor Honna Jun from Ritsumeikan University, Graduate School of International Relations.
Professor Edgar Porter, Pro-Vice President for International Affairs and Faculty Development of APU, gave his opening address by sharing his personal experience with Indonesian studies and encounter with scholars on Indonesia in his capacity as an expert on Asian studies. In the first part of the seminar, the two speakers shared their insights on what is going on in Indonesia.
Mr. Junanto presented the state of Indonesian economy with a focus on macroeconomic indicators from the viewpoint of policymakers. He also touched upon various other issues such as politics of economic planning, the condition of economics education in Indonesian universities, and many others. Afterwards, Professor Honna presented a range of topics related to Indonesian politics, from local politics to regional security in ASEAM. He also discussed security sector reform and partnership between Indonesia and Japan, based on his research and professional involvement.
The seminar then continued with a free discussion session moderated by Professor Porter. After a series of lively discussion from students and professors, Professor A Mani, Vice President of APU, gave his concluding remarks. He also emphasized the need to promote more studies on Indonesia and to encourage more student-initiated activities at APU.
Looking back on the event, the Chairperson of the Seminar, Stefani Kosasih (APS 3, Indonesia) said, "The main purposes of this seminar are to share current conditions and future projections of Indonesia, to strengthen the network among students, academia, government, and civil society, as well as to encourage students to do similar activities in the future.
The seminar itself was an eye-opening experience, and I learn a lot from this seminar, especially in terms of enhancing my organizational and networking skills. Hopefully this initiative will promote more intellectual discussions at APU, especially among students."
Iqra Anugrah GSAM 1st year
Mr. Junanto Herdiawan Video(WMV)
Professor Honna Jun Power Point(PDF)
TOPIC

セミナー