Feb 6, 2012
Prof. Hitoshi MITSUHASHI(Keio University) gives an RCAPS Seminar:
On Wednesday, January 25, 2012, an RCAPS Seminar was held by guest lecturer, Dr. Hitoshi MITSUHASHI, a Professor at the Keio University Faculty of Business and Commerce, under the theme of "An Introduction to Social Network Analysis in Organization Science".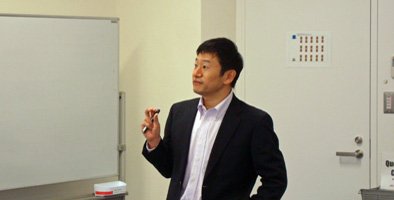 In an age when more and more people are participating in social networks through Facebook, Twitter, and other social media, Dr. MITSUHASHI's lecture focused on the analysis of networks between individuals, organisations and nations from a theoretical and empirical perspective. Dr. MITSUHASHI illustrated how the analysis of social networks can identify key players in complex interpersonal networks and illustrated his point with network diagrams of the 911 terrorist groups and members of the Japanese political scene.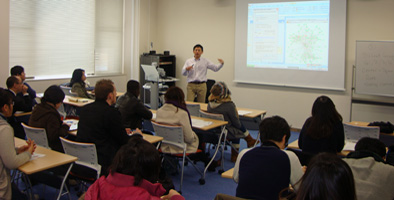 Dr. MITSUHASHI then discussed some of the implications of social networks including empirical findings suggesting that maintaining an open social network can lead to greater access to information, earlier job promotion, larger salaries and even greater success when hunting for a job. Dr. MITSUHASHI discussed a range of opposing standpoints surrounding the nature and outcomes of social networks and invited the audience to share their views too.
At the end of the lecture, Dr. MITSUHASHI introduced a range of free software available for network analysis and gave a brief tutorial on their usage. The lecture proved to be a great opportunity for students to learn more about the interesting field of social network analysis and mapping.
This event was made possible through the invitation by APM Assistant Professor, ALCANTARA Lailani Laynesa, who has been working on projects with Dr. MITSUHASHI since 2004.
TOPIC

セミナー