Jun 4, 2012
Prof. Karkut, Jonathan (Lecturer, London Metropolitan University) gives a lecture at an RCAPS Seminar:
On May 9, 2012, Professor Jonathan Karkut (London Metropolitan University) gave an RCAPS seminar entitled "The Development of Geoparks in the Asia Pacific Region."
Professor Karkut began by introducing the concept of geoparks, which appear in many parts of the globe. Then he talked about sustainable tourism, responses to the geopark model in Europe, and case studies in the Asia Pacific region.
Geoparks were first developed in Europe, Professor Karkut explained, but in recent years, they have become popular in the Asia Pacific region in areas such as Japan, South Korea, China, Malaysia and Australia. Five to ten new geoparks are registered every year according to UNESCO. Professor Karkut explained that the geopark model can be applied not only to existing tourist destinations, but also to new tourist spots. He talked about cases in southern England and Germany in detail.
Geoparks do not exist in isolation, but attract the interest of visitors and involve various aspects such as nature, relationships with humans (minerals, impacts), history, volcanoes, conservation activities, education, sustainable development, industry, technological development, investment, cultures, and politics, Professor Karkut explained.
Professor Karkut said that geotourism goes across borders, becoming the core of tourism. In regions facing the conflict, it softens disputes. It also stimulates economies and revitalizes regions effectively.
In the question and answer session following the lecture, APU students asked questions including ones about tourism in Beppu. Candid questions and comments were exchanged. Professor Karkut's lecture included a variety of areas, and was very interesting and a good opportunity for the students.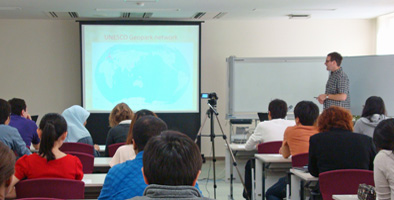 This event was made possible through the invitation of APS Professor Malcolm Cooper.
Power Point(PDF)
Video(WMV)
TOPIC

セミナー