Oct 19, 2012
Dr. Paul Hempel (City University of Hong Kong) gives a lecture at an RCAPS Seminar: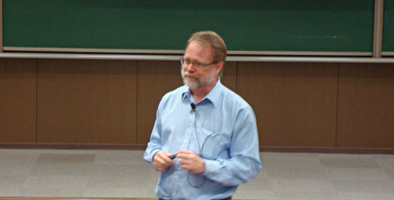 On October 18, 2012, Dr. Paul Hempel came to APU and delivered an RCAPS seminar about promoting creativity in an organizational setting.
Dr. Hempel is an Associate Professor of the City University of Hong Kong and has been doing research on human resources for many years. In his lecture, Dr. Hempel defined the differences between creativity and innovation and described the importance of creativity as a basis of innovation. He also presented a comprehensive approach on how to measure, manage, and improve creativity in an organization. His explanation, example, and answer were encouraging to the audience, particularly when he described Western and Asia different points of view regarding creativity. In addition, he also shared his research on factors that influence creativity in an organization. His conclusion was that rewards, culture, overseas living experience, and group composition and process are the most significant factors. Despite the time, which was insufficient for this interesting topic, the seminar itself was thought-provoking, educational, and unarguably beneficial for the attendees.
Written by Mr. WISHNU Agung Baroto (APU GSM)
Power Point(PDF)
Video(WMV)
TOPIC

セミナー