Jun 30, 2012
RCAPS Seminar: Prof. GUNARTO, Hary (Professor, College of Asia Pacific Studies, APU)
On June 29, 2012, Prof. GUNARTO, Hary (Professor, College of Asia Pacific Studies, APU) was invited to present an RCAPS Seminar entitled "ADL research presentation: Indonesian World Heritage Sites: Ancient Prambanan and Borobudur Temples".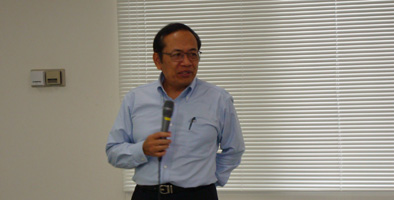 Prof. Gunarto mentioned that Prambanan is a Hindu temple, located 17km to the East of Java city, whilst Borobudur is a Baddhist temple, located 40km to the North of Java city.
Professor Gunarto explained that these two sites have been recognized by UNESCO since 1991and therefore form part of the 953 heritage sites in the world found in 153 countries. Some of the heritage sites in the South East Asia Region such as Besakih Temple (Hindu, Bali), Emerald Buddha (Wat Phra Kaew, Bangkok), and Angkor Wat (Cambodia) were outlined in the presentation.
Prambanan temple is a complex with 16 separate buildings. The biggest among them is the Shiva, which has a size of 34×34m by 47m tall, followed by Brahma which has a size of 20×20m by 33m tall. The Borobudur has only one building but consists of 9 separate floors and has a size of 123×123m by 42m tall.
Professor Gunarto concluded that Prambanan and Borobudur have been used for rituals up to the present day and they serve as historical and tourist sites. Borobudur is the biggest ancient Buddhist temple according to the Guinness book of world records.
Written by Mr AMO Thompson (APU GSAM)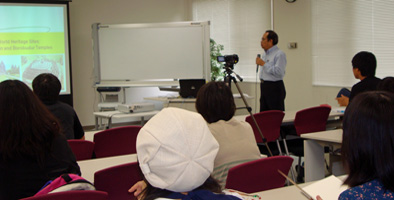 Video(WMV)
 
TOPIC

セミナー