Nov 12, 2012
RCAPS Seminar: Ms Nassrin AZIMI (United Nations Institute for Training and Research, UNITAR)
On November 9, 2012, Ms Nassrin Azimi (Co-founder/Coordinator, Green Legacy Hiroshima (GLH) Initiative & Senior Advisor, United Nations Institute for Training and Research (UNITAR), Hiroshima) was invited to present an RCAPS Seminar entitled, "The continuing and relevant lessons of caution and of resilience, from Hiroshima."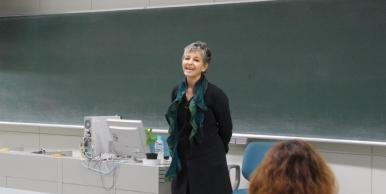 The lecture was about Hiroshima and peace. The audience was able to obtain a deep understanding of the program of Green Legacy Hiroshima, launched by the United Nations Institute for Training and Research (UNITAR) and ANT-Hiroshima, which delivers all over the world a peace message utilizing the trees and the seeds of trees that survived the atomic bomb dropped on Hiroshima. Ms Azimi also explained Hiroshima City's efforts for peace. Amongst the efforts conducted by Hiroshima City, one impressive one was that the city mayor's new slogan "From a city that used to produce weapons to a peaceful city with greenery". Ms Azimi also mentioned that by taking action for peace in Hiroshima, which suffered the devastation of an atomic bombing, a strong message can be delivered to the rest of the world.
The lecture was held in a friendly atmosphere, and all the audience listened to the lecture intently. Ms Azimi answered as many questions from the floor as her time allowed, and a lively exchange of views was realized. This lecture was very meaningful and reaffirmed for APU students and faculty members the significance of peace activities.
This lecture was made possible through the invitation of APS Assistant Professor Faezeh MAHICHI.
Written by: Mr Oka Kazuchika (APU GSA)
PowerPoint(PDF)
Video(WMV)


TOPIC

セミナー