Jul 8, 2013
Current Research Seminar: Mr Warren (juwi Renewable Energies Pvt. Ltd.)
On July 3rd, Mr John M. Warren was invited to deliver an RCAPS Current Research Seminar entitled, "Business Opportunities in the Solar Market in Japan: Perspectives from a Leading German Renewable Energy Project Developer".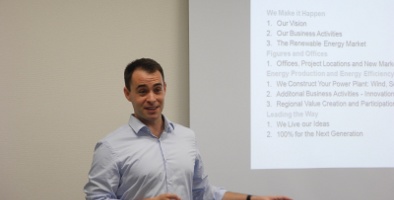 Mr Warren is currently a Project Manager (Asia Branch) in Germany's largest renewable energy company, "juwi", and also an alumnus of the APU/IMAT program 2010 batch. The presentation began with an introduction from Prof Peter Heck, the director of IfaS – the German Counterpart of APU –. Both students and faculty members were in the audience.
Mr Warren started the presentation with a brief introduction to "juwi", how it grew from a two man company installing wind turbines into today's "German Titan" in the renewable business expanding worldwide. The Asian market has been a big focus for "juwi", and the Japanese market, though suffering some rises and falls during the past 15 years, has been booming recently following the introduction of the new "FIT" program for "Mega" solar projects in April 2012. "juwi" initiated their first solar project in August 2012, and now have multiple projects under construction or development in Japan. He offered an exclusive view on the Japanese solar market, and shared his experiences as part of foreign renewable energy company trying to gain a share in the Japanese market, both the advantages and the obstacles and challenges. He incorporated his personal stories as an APU graduate, making his presentation resonate with the audience.
A heated discussion followed during the Q&A section covering the topics raging from Feed-in Tariffs in Japan and Germany and PV manufacturing in China to the dynamics of Japanese YEN values and their influence on the solar market. Mr Warren headed for a new project site the next day after the presentation. We wish him the best in his career.
Written by Mr ZOU, Xiaolong (Edison), PhD Student of GSAD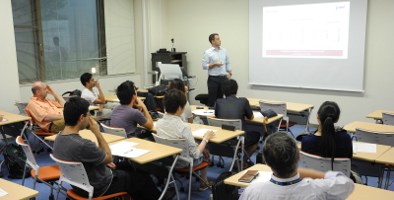 Video(WMV)
TOPIC

セミナー