Apr 22, 2014
Seminar Report: Mr Jonas Severin Frank
On the 16th of April, APU welcomed a special guest – Mr Jonas Severin Frank (Doctoral Candidate, Research and Teaching AssistantPhilipps-Universitat Marburg) – to deliver a lecture entitled, 'Patent Settlements within the Complex Institutional Framework of the Pharmaceutical Sector'.
On April 16th, 2014, APU welcomed an RCAPS visiting research fellow, Mr Jonas Severin Frank of Philipps University of Marburg, to present his on-going research project, "Patent Settlement within the Complex Institutional Framework of the Pharmaceutical Sector". Associate Professor Marian Beise-Zee from the College of International Management at APU began the seminar with a brief introduction of the research topic and speaker. The audience consisted of students from both the undergraduate and graduate schools and faculty members.
Mr Frank started his presentation by explaining the research background related to "patent" issues in general and then moved on to the pharmaceutical industries in the US and EU. One major phenomenon manifested within this sector is "patent settlements" between originator and generic firms. Mr Frank further elaborated on related topics like reverse payments, weak patents, and assessment of patent settlements to unveil the research rationale behind originator pharmaceutical firms' paying generic firms to settle a patent dispute while restricting their entry into the market. In conclusion, Mr Frank explained his current research progress and expected outcomes.
The question and answer (Q&A) session organized by Professor Beise-Zee ran alongside the lecture rather than coming afterwards so that any spark of enquiry could be discussed instantly. Many interesting questions were heard throughout the presentation, concerning issues such as the patent scope in the US and EU, legal specifications of the Hatch-Waxman Act, and the intersection of patents and antitrust amongst others. This seminar concluded with an announcement from Professor Beise-Zee, and a group photo taken of all the participants.
Written by (Edison) Xiaolong ZOU, PhD Student, GASD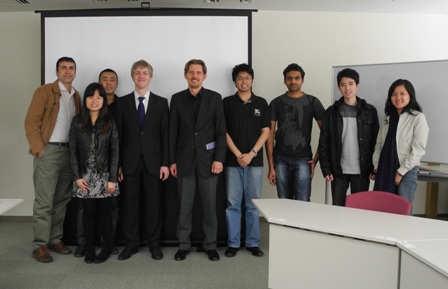 ◇PowerPoint(PDF)
TOPIC

セミナー