Nov 6, 2017
AP Conference 2017 Pre-Event Workshop
A special workshop by Associate Professor Thomas E. Jones will be held on November 10 (Fri) as a pre-event of the AP Conference 2017.
The workshop consists of two parts. Part I comprises a transnational comparison of Governance, Conservation & Tourism trends. Part II introduces Case Studies from East Asia's national parks.
This workshop is open to all and everyone is welcome!
Workshop Title: Mountainous Protected Areas of East Asia: Governance, Conservation & Tourism
| | |
| --- | --- |
| Time & Date: | November 10 (Fri), 2017 15:00 ~ 19:00 |
| Venue: | RCAPS Meeting Room A, B-Building 2 F |
| Part I: | 15:00 ~ 17:20 |
| Part I: | 15:00 ~ 17:20 |
| | International comparison: Governance, conservation & trend in mountainous protected areas of East Asia |
| Part II: | 17:50 ~ 19:00 |
| | "National Park Café": Case studies from East Asia's national parks |
| | ※ Free tea & snacks will be served. |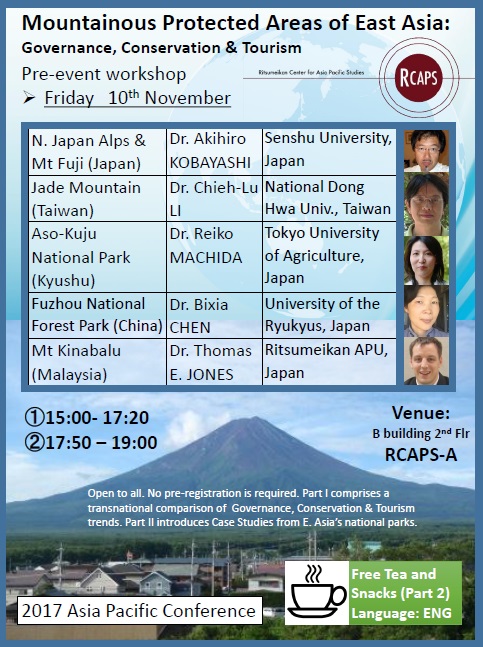 TOPIC

カンファレンス