Feb 7, 2019
Seminar Report: "Deep and shallow perspectives on dark tourism in the Asia-Pacific region: A new framework for engagement"
On Wednesday, January 9, the "RCAPS Onigiri Seminar" entitled "Deep and shallow perspectives on dark tourism in the Asia-Pacific region: A new framework for engagement" was delivered together with a Writing Workshop by Prof. WEAVER, David of Griffith University, Australia.
[Report by Associate Professor BUI, Thanh Huong (APS) as the Seminar Organizer]
The seminar title "Deep and Shallow Perspectives on Dark Tourism in the Asia – Pacific Region" and a writing workshop were designed to achieve two-fold objectives:
(1) To open a forum to discuss current thoughts and research on dark tourism in the Asia Pacific and highlight potential gaps for further knowledge advancement;
(2) To offers an opportunity for faculty to develop their research into a high-quality publications
Evaluation against objective (1):
The speaker is one of the most well-known and well-cited author in tourism discipline, where his idea and direction for research was well-presented. Not only the cutting-edge content of the seminar was informative and thought-provoking, the follow-up discussion on the relevance of the topic to faculty and students research interest was also very engaging and active.
The seminar was organized in liaison to APU's JSPS (B) project on dark tourism "Uncovering the black box of educational dark tourism" aiming at publishing research outcome to higher-tier international journals. Content of the presentation and research discussion following the seminar will contribute to enrich research outcomes and activities in relation to this project in particular and APU's research profile in general.
Evaluation against objective (2):
Having opened the seminar to audience both APU and outside APU, the seminar was successful to attract faculty and graduate students from Hiroshima University, Kitakyushu University and Kumamoto University as well as PhD, master students and faculty of APU. The seminar offers a great opportunity for APU faculty and students to engage and exchange their research to a world-renown researcher and have feedback on their research plan. The success of the seminar is not only among APU audience, but also extend beyond the normal RCAPS seminar circumstance to reach wider audience with participants from other universities.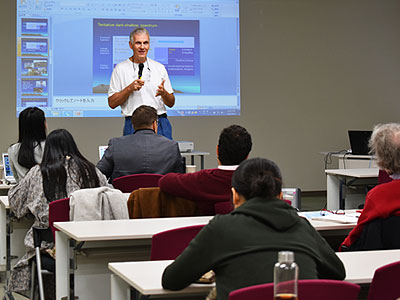 TOPIC

セミナー