Feb 15, 2019
Seminar Report: "INCLUSIVE INNOVATION AND FOREIGN TECHNOLOGY INVESTMENT (FTI): Lessons from the Japan-Sri Lanka Innovation Platform (J-SLIP)"
On Tuesday, January 15, the "RCAPS Onigiri Seminar" entitled "INCLUSIVE INNOVATION AND FOREIGN TECHNOLOGY INVESTMENT (FTI): Lessons from the Japan-Sri Lanka Innovation Platform (J-SLIP)" was delivered by Prof. CASSIM, Monte of Graduate School of Leadership and Innovation, Shizenkan University.
[Report by Associate Professor MAHICHI Faezeh (APS) as the Seminar Organizer]
On Tuesday 15th January, 2019, Professor Monte Cassim visited APU to give a lecture titled "Inclusive innovation and Foreign Technology Investment (FTI): Lessons from the Japan- Sri Lanka Innovation Platform (J-SLIP)" This was done as part of the Ritsumeikan Center for Asia Pacific Studies (RCAPS) Seminar and chaired by Associate Professor Faezeh Mahichi.
The main theme of this lecture was "inclusive innovation", which Professor Monte Cassim defines as using the most advanced technology available to solve the pressing issues that the disadvantaged members of society are facing. First he explained why inclusive innovation is necessary. Next he provided detailed example of inclusive innovation - the joint initiative between Sri Lankan government and Japanese government, called J-SLIP. Finally, through two case studies the early success of the J-SLIP initiative were introduced.
In the first section he discussed why innovations must be inclusive. In light of the recent surge in populism, not just in developed countries but also in many emerging nations, Professor Cassim stresses the importance of "Equity, inclusion and sustainability" in fixing the problems with our current failed systems.
Next, Professor Cassim introduced The Japan-Sri Lanka Innovation Platform (J-Slip) as an example of the revolutionary shift from FDI (Foreign Direct Investment) and FPI (Foreign Policy Instrument) to FTI (Foreign Technology Investment). This new development philosophy stems from the realization that the future of development relies on the integration of science and technology into society and the collaboration between nations. J-SLIP structures the interaction between technology provider (technology entity) and recipient (implementation entity) so that both side can get a fair share, and that societally challenges are actually addressed.
This led to the next section where Professor Cassim introduced two examples of the "propulsive projects" that have been successfully implemented.
The first one, Eco-Smart mobility is an improved version of the traditional three wheelers (which is ubiquitous in Sri Lanka). This new electric vehicle is not only environmentally friendly, but also has the potential to introduce new business opportunities. For example, a startup could introduce a new groceries delivering system for old people using the electric three wheelers. As such, new technologies also have the potential to improve the welfare of common people.
In the same vein, case two focused on how technology can help old people live a healthier life. Through a system connecting the medical, tourism and agricultural sectors the healthcare needs of the aging population is taken care of. Moreover, by utilizing medical tourism, this is done without an extensive welfare and insurance system established by developed countries such as Japan.
Throughout the seminar Professor Cassim also stressed that a university can offer what private companies cannot. The former APU president also linked such discussion with his experience of working inside the Ritsumeikan system, especially his decision to become APU's president. His key takeaway was that one should not be hesitant to take on a good opportunity. Only by doing so can one move onto another level in their life. Finally, in a parting message, he hoped that we can all value diversity and unique perspectives in other people. To him, that is what sets APU apart from other Japanese universities: "The Appreciation of Diversity is in APU's Mission".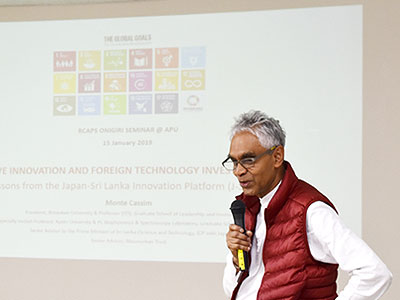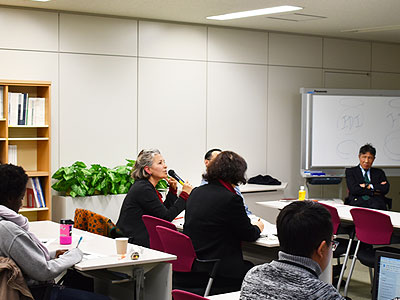 TOPIC

セミナー