Dec 23, 2019
Seminar Report "Wildlife Tourism in the Asia-Pacific"
On November 11, RCAPS welcomed Dr. Green Ronda to deliver a RCAPS Seminar entitled "Wildlife Tourism in the Asia-Pacific."
[Report by Associate Professor JONES as a Seminar organizer]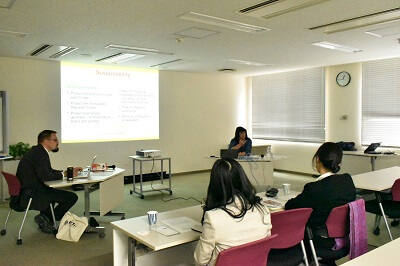 Dr. GREEN Ronda (Griffith University)
This Onigiri seminar held great significance for the following reasons:
(1) Wildlife tourism is a growing global market, but the actions of humans can have negative impacts for primates as park managers struggle to educate diversifying visitor segments. Japan is attracting many inbound visitors, with an updated target of 40million international tourist arrivals by 2020. However, numerous challenges surround revitalizing monkey parks to meet the changing needs of society and increasing amounts of inbound visitors. Hence "Wildlife Tourism" is an emerging Keyword at the intersection of sustainability and tourism-based research, as managers and guides seek to pioneer methods of persuasive communication that can encourage responsible tourist behaviour.
(2) Dr. Green ranks among the world's leading experts in this field, combining academic excellence in the arenas of ecological and behavioural research with applied experience in environmental education. She has had extensive experience in nature interpretation, and is the author of a number of publications related to various aspects of wildlife tourism including seed dispersal by fruit-eating animals and the effects of habitat alteration on wildlife. This seminar connected a range of perspectives from managers, guides and rangers to discuss methods of persuasive communication that can promote responsible tourism.
(3) Wildlife Tourism Australia grew from a nation-wide collaborative research endeavour, as part of the Cooperative Research Centre for Sustainable Tourism. She explained how economic and environmental aims are sometimes in harmony, sometimes in conflict. Beyond ecology, she also touched upon Sustainability issues such as:
• Crowding
• Waste
• Water use
• Fossil fuels
• Illegal trade
• Clearing habitat etc.
TOPIC

セミナー