Jan 24, 2020
Seminar Report "Static and Dynamic Duality and Dynamic Factor Demand Model in Korea Industry"
On January 20, RCAPS welcomed Professor KIM Hyunho to deliver a RCAPS Current Research Seminar entitled "Static and Dynamic Duality and Dynamic Factor Demand Model in Korea Industry."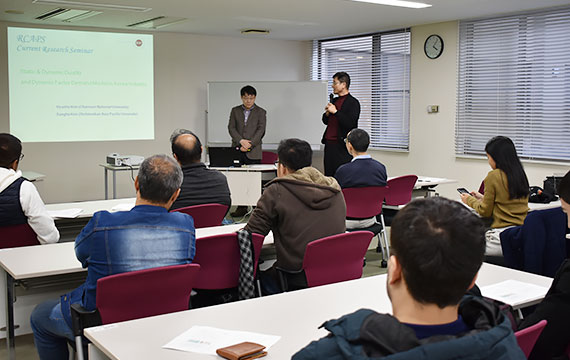 KIM Hyunho教授/Professor KIM Hyunho
(Chonnam National University)
[Report by Professor KIM Sangho as the seminar organizer]
In the seminar, Prof. Kim presented theoretical aspects of duality as follows:
Characteristics of duality for optimization problem.
Producer's profit maximization and cost minimization problem.
Relationship between static duality and dynamic duality.
Derives a dynamic factor demand model.
Then, he sketches how he applies the dynamic factor model empirically as follows:
Applying a dynamic factor model to the Korean economy.
Estimate dynamic price elasticities of factor demands.
Simulate effects of minimum wage change on employment.
There are 12 students attending the seminar along with Director Yamagata, who provided valuable feedback at the Q&A session. The presentation was intense and very instructive to graduate students.
The students were also very active in the Q&A session even though presentation was very theoretical. Our students learned about duality in microeconomics and how a regression model is derived from the theory. Due to lack of time, the empirical part of presentation was just sketched without specific elaboration.
TOPIC

セミナー