Feb 7, 2020
Seminar Report "Integrating disaster risk reduction and climate change adaptation: filling the financial gap toward a resilient society"
On January 24, RCAPS welcomed Dr. ISHIWATARI Mikio, a senior advisor of Japan International Cooperation Agency, to deliver a RCAPS Onigiri Seminar entitled "Integrating disaster risk reduction and climate change adaptation: filling the financial gap toward a resilient society."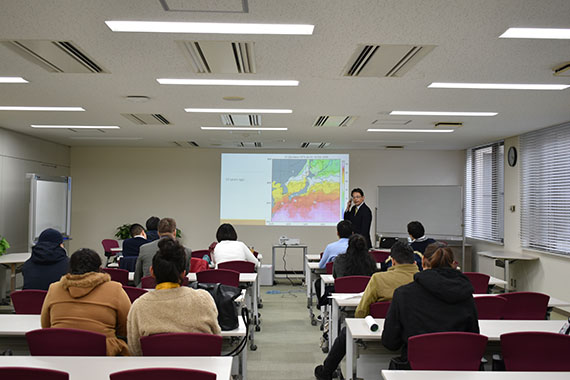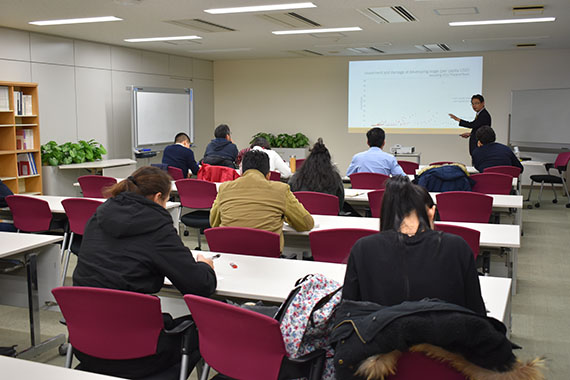 Dr. ISHIWATARI Mikio
Japan International Cooperation Agency
[Report by Assistant Professor Gomez Oscar (APS) as the seminar organizer]
The Onigiri Seminar was divided in four sections, exploring different dimensions of the connection between disaster risk reduction (DRR) and climate change adaptation (CCA), particularly in relation to finance.
Dr. Ishiwatari opened the seminar by describing the damages caused in Tokyo area and northern Japan by Typhoon Hagibis in 2019. The example of this typhoon played two important roles. First, it served as an example of the effects of climate change; particularly, changes in the sea temperature around Japan suggest there is a connection between climate change and the magnitude of the typhoon. Second, Hagibis experienced also exemplified the importance of prevention. While there were some impacts, a greater tragedy was prevented thanks to the efforts for flood prevention that Japan has been implanting in the country for over a century.
Then, Dr. Ishiwatari moved to the issue of how to implement similar strategies in Asia. Measuring current investment in Asia was the first step. He remarked how there is a "narrow corridor" of disaster damage and loss, in which relatively poor countries usually suffer large number of fatalities with small economic losses, while rich countries experiment the contrary: big losses but few deaths. This narrow corridor was more or less present in Asia, reflecting related patterns of investment as countries become richer. In the region Japan and China invest more, although The Philippines has become recently the top investor as a share of its gross development product (GDP). Overall, $57 billion USD per year are invested, or 0.26% of the GDP, 4.2% of the total infrastructure investment. Investments have shown to be cost-effective, paying off in the long term.
The second step was to estimate the demand of flood protection investments expected from the region. Dr. Ishiwatari used a simple regression model for estimating the needs of major countries based on their income, population and other factors. The result is an annual average of $94.5 billion USD between 2016 and 2030, which implies a large increase from the 2015 $33.6 billion for the countries included in the study.
Finally, the third step was to describe the multiple sources available to cover this financial gap. These included domestic financing sources, development assistance, climate change financing and the private sector. Several examples of these sources and how they contribute were described in the presentation. Major challenges are the mobilization of private capital and the inclusion of vulnerable groups considerations when designing actions in this sector.
The presentation was followed by some comments and questions from the discussant and the audience, mainly in relation to the applicability of the Japanese experience to other countries and the difficulties in promoting preventive measures. Overall, the seminar was a great opportunity for students to learn about how DRR functions at the regional level and to get a grasp of the size of the sector and the challenges behind its finance.
TOPIC

セミナー