Nov 6, 2008
RCAPS Seminar: The Honourable Ranil Wickremesinghe, Former Prime Minister of Sri Lanka and Current Leader of the Opposition Party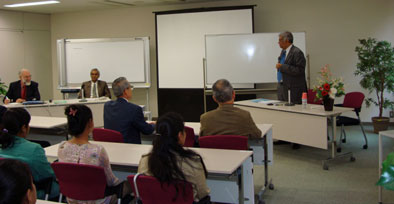 The Honourable Ranil Wickremesinghe, former Prime Minister of Sri Lanka and current Leader of the opposition party, presented a RCAPS Seminar on November 4, 2008. He delivered a speech entitled 'The Impact of Small Government Competitiveness and Wealth Creation - Lessons from Reform in Sri Lanka' to a captive audience of APU students and faculty.
The candid discussion included many concrete examples of his administration's economic, domestic, and foreign policies which nurtured the anemic Sri Lankan economy of the 2001 back to health. These included: championing the peace process, balancing the budget, reducing national debt, encouraging agriculture, and relaxing airspace and visa restrictions to encourage tourism.
Mr. Wickremesinghe also outlined many of the challenges facing Sri Lanka in the current global economic crisis. He argued that diminishing the role of government and reducing the number of public servants by encouraging them to join the private sector coupled with government investments in education, housing, and healthcare would help combat the economic depression. He also emphasized the importance of working toward lasting peace. After Mr. Wickremesinghe's presentation, the audience had the opportunity to engage in an in-depth discussion with the former Prime Minister about the issues he had raised in his speech. The attendees received a great deal of insight into the inner workings of government and economic policy.
TOPIC

セミナー