Dec 18, 2009
Mr. NAKASHIMA Tokushi(President, ZERO SPORTS Co.) gives a lecture at a RCAPS Seminar:
On Thursday December 17, a RCAPS sponsored seminar was held at APU.
The seminar welcomed Mr. NAKASHIMA Tokushi (President, ZERO SPORTS Co.) to give a lecture titled, "Electric Vehicle (EV) will Change the World".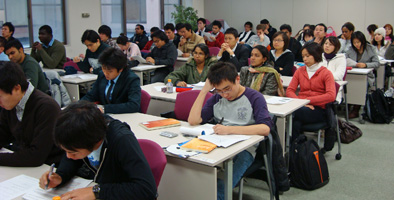 On December 17, RCAPS welcomed Mr. Nakashima Tokushi, President of Zero Sports to give a seminar titled: "Electric Vehicle (EV) will change the world". Mr. Nakashima talked about Zero Sports which he began in 1994 at the age of 26, which is today the number one commercial EV company in Japan. It is the 17th automobile company authorized by the Ministry of Land, Infrastructure and Transport. In 2008 Japan Post Service announced its plans to replace 22,000 pickup and delivery vehicles with EVs and in July this year, Zero Sports was selected to manufacture such pickup and delivery vehicles for Japan Post Service Co., Ltd. for test use. Mr. Nakashima said he entered the automobile industry because he wanted to contribute to the environment and he has since worked towards the enhancement and production of EVs. Most of the vehicles that Zero Sports manufactures are, as he said, "no license number" cars, such as golf carts, which are used in professional golf tournaments and small cars for factories and amusement parks. Mr. Nakashima gave a brief history of EVs, both in Japan and abroad. He explained that although EVs existed in the 19th Century in the United States and also in Japan at the end of the 19th century, the manufacturing of EVs completely halted with the improvement of internal combustion engines and the spread of gas stations. Today there is a growing interest in EVs again, due to growing environmental concerns including, global warming, oil depletion, automobile related energy policies, etc. Although in 2003, major automobile manufacturers withdrew from EV sales, Zero Sports was the only company that continued working on the development of EVs and received subsidies since 2002. Mr. Nakashima said he attributed his success to the experiences accumulated in the work of the past twenty years. He also discussed the various obstacles and many challenges that his company had to overcome to become authorized as an automobile company, especially at the time of establishment due to the very limited budget they had. Despite such challenges, Mr. Nakashima said he was able to keep working as he "started with a dream and the will to succeed". The seminar was followed by a lively Q&A session in which many students raised questions about Zero Sports and Mr. Nakashima's career and expressed their interest in the EV industry.
TOPIC

セミナー