Dec 24, 2009
APU's Annual Conference Brings Together Bright Minds from around the World
The 2009 Annual AP Conference was held at APU from December 12-13 under the theme of "Reflections on the Asia Pacific - Past, Present and Future".
The event featured keynote speakers from several countries - including the Philippines, America, Austria, and Japan - who presented diverse perspectives and in-depth analyses of important global issues. Conference participants also attended parallel sessions that showcased research currently being done at APU in the fields of information and communication technology, environment, education, society, finance, and tourism.
President Monte Cassim opened the event with a welcome speech, in which he emphasized the importance of research for academic institutions and commended APU's growing achievements in this area. He also spoke about future plans for the university, including the launch of an academic association in 2010 called the "International Association of Asia Pacific Studies" which will publish a new academic journal, Asia Pacific World. All of these milestones will take place as APU celebrates its 10th anniversary this year. The first keynote speech, "Human Capability and Innovation: Building a Globalized Sustainable World", was given by Dr Teresita L. Salva, President of Palawan State University in the Philippines. Her talk focused on the importance of human capability and its effect on innovation. According to Dr Salva, human capability refers to people being able to use their abilities freely without being hindered by a lack of basic infrastructural support such as health care and education. When people can realize their capabilities, innovation happens naturally. Dr Salva drew on various examples and anecdotes to illustrate her point and argue that human capability is the foundation of a country's development. Next was a keynote speech by Dr Richard B. Dasher, Director of the US-Asia Technology Management Center at Stanford University. His presentation was titled "After the Storm: The Impact of the Current Economic Downturn on the Globalization of Corporate Research and Development", and featured a detailed breakdown of research and development trends in the current economic downturn. He showed that even though R&D activity is still mostly concentrated in developed countries and regions such as America, Europe and Japan, it is also increasingly taking place in two major developing countries: China and India. Dr Dasher stressed the importance of R&D for innovation, especially in an economic downturn, as well as talking about the central role of universities in this respect. At the end of his presentation, he reflected on the necessity of participating in globalization effectively, rather than questioning whether globalization itself is beneficial or not. Dr Wolfram T. Manzenreiter of the University of Vienna opened up day two of the conference with his speech, "Global movements: Sports spectacles in East Asia and the transformation of representational power". This presentation discussed the underlying meaning behind large-scale sporting events such as the Olympics. Dr Manzenreiter argued that the Olympics are used by host nations as a marker of modernity, that global social movements use the stage to draw attention to their cause, and that remnants of Western colonialism exist in the framework. Using the most recent Olympics in Beijing as an example, he suggested that host countries also use the opportunity to try and create an idealized image of their country. In the case of China, there were three prevailing themes for the event: The People's Olympics, representing Chinese people in a globalizing world; the High-Tech Olympics, showing China's technological abilities to the world; and the Green Olympics, which showed a concern for the environment. Dr Manzenreiter concluded, however, that China was not successful in creating a "nation brand" and that streamlining a unified message or theme for an event like the Olympics is inherently difficult. The last keynote speech, "The Satoyama and Satoumi initiatives for conservation of biodiversity and reactivation of rural areas in Japan: A perspective of Noto Peninsula", was given by Dr Nakamura Koji, Director of the Institute of Nature and Environmental Technology at Kanazawa University. Dr Nakamura outlined various initiatives being carried out in Noto Peninsula which aim to regain biodiversity that has been lost due to human activity, while also revitalizing the local community and economy to make the region appealing for young people to live in. Dr Nakamura believes it is vital to understand the relationship between one's surrounding ecosystem and quality of life. For this reason, he is working hard to continue promoting the Satoyama and Satoumi movements in Noto Peninsula, and teaching others about the initiatives. After two full days of presentations and discussions among the participants, Vice President Malcolm Cooper closed the conference on Sunday night by thanking everyone involved and summarizing the overall theme he saw in the presentations: the need to develop the Asia Pacific region through local initiatives, which can only succeed by harnessing the capability of local people. Vice President Cooper then made an official call for papers for the first issue of Asia Pacific World, which will be published in April.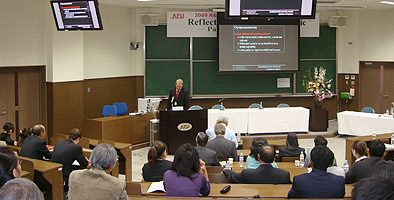 TOPIC

カンファレンス