Message from the Director
The "International Center for Asia Pacific Tourism" (iCAPt), researches the role of tourism and hospitality industry in shaping the future of the Asia Pacific region based on APU's philosophy of "freedom, peace and humanity". The Center studies the impact of tourism in the Asia Pacific Region from environmental socioeconomic and human perspectives. It aims to provide a platform for collaboration among academia, local communities, public and private sectors and international organizations. We value outcomes that contribute to the sustainable use of resources for development in the local area or on a global scale. The center intends to strengthen the network of stakeholders and their involvement in the development of the Asia Pacific through the interdisciplinary field of tourism studies.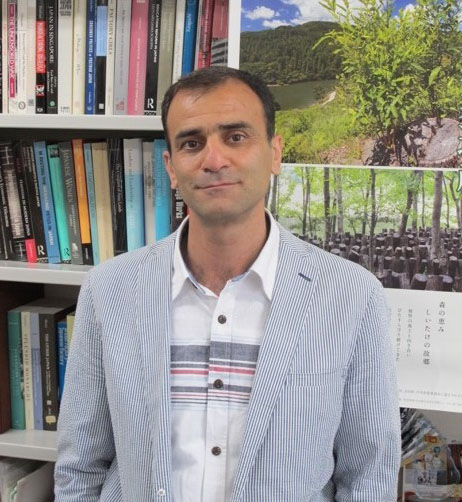 The Center aims to achieve the following:
Creating databases and conducting research on model Sustainable Tourism initiatives in the Asia Pacific;
Benchmarking best practices and international collaborative research on the core topics of interest to the region and its tourism and hospitality industry;
Holding participatory workshop activities among stakeholders for knowledge sharing;
Evaluating the applications of collaborative initiatives and develop new models for development of the industry in the Asia Pacific Region;
Disseminating research outcomes through publications and conferences.
Main activities in AY 2019
International Conference:
This year iCAPt co-host the 8th Japan Society for Tourism Studies Conference that was hold in July 5-7 at Rtsumeiakn Asia Pacific University. The main keynote for the conference was about implementing the Global Code of Ethics in Higher Education. The conference brought tourism scholars from all over Japan to discuss about contemporary issues in tourism industry in the world and especially in Japan. Sports tourism and Olympic tourism development got a particular focus in one of the sections of the conference. New aspects of tourism development by Olympics and the relationship between Olympic games and tourism and politics in Japan was well discussed during the conference. Several other aspects of tourism such as mobility, destination management, sustainability of tourism industry and social cultural aspects of tourism such as tourist behavior were the main focus of discussions.
Detail information
http://jsts.sc/event/meeting/m2019?fbclid=IwAR0bofaVeQ_goeWFxOnpBbLW8S4mJZBg0F9AlqBou4yqKfTKpMlM6HPe8bw
Research Seminars
A series of research seminars were organized by iCAPt researchers during 2019. Professor Bui has organized a series of seminars in one of the events Professor Jeffrey E. Hanes Director, Center for Asia Pacific Studies, University of Oregon, USA delivered a seminar lecture on: Welcome to Washington Heights: America Towns and Americanization in Occupied Japan and in another seminar Prof. LEW Alan of Northern Arizona University delivered a Seminar entitled "Time and Space in Tourism and Community Disaster Resilience."
Community Service
iCAPt organized a series of events and educational programs with local communities in Oita Prefecture including Usa city, Kunisaki City and Yufu City.
Kunisaki Highschool Program
iCAPt organized a workshop series for Kunisaki high school students in both in APU and in Kunisaki for hospitality management and traditional knowledge tourism in collaboration with local community in Kunisaki area.
Yufu Highschool Program
The center trained students of Yufu high school who majored in tourism to develop several tourism projects in their city in collaboration with local guesthouse owners. The program was held monthly both in the university and in Yufu city.
Community Based Learning (Developing New classes for Active learning/ CBL and CCBL)
In collaboration with 4 cities in Oita prefecture (Beppu city, Kunisaki city, Kitsuki city and Usa city) iCAPt has been organizing a series of guest lecture and events working with local municipal offices on local revitalization and human resource development plans to be utilized as study materials and subjects for university students to collaborate and learn in direct relationship with communities. Beppu Uchinari, Usa Ryuai village, Kunisaki agriculture schools and Otsuru community center in Yufu city were main destinations for this program. The projects are ongoing.
Researchers
Name
Current Affiliation / Position
Field(s) of Specialization
VAFADARI, M. Kazem
Assosiate Professor
Ritsumeikan Asia Pacific University
Tourism
TODOROKI, Hiroshi
Professor
Ritsumeikan Asia Pacific University
Tourism, Geography
YOTSUMOTO, Yukio
Professor
Ritsumeikan Asia Pacific University
Tourism
BUI, Thanh Huong
Associate Professor
Ritsumeikan Asia Pacific University
Tourism
LEE, Timothy
Professor
Ritsumeikan Asia Pacific University
Tourism
KUBO, Takayuki
Associate Professor
Ritsumeikan Asia Pacific University
Tourism
COOPER, Malcolm J.M.
Professor Emeritus
Ritsumeikan Asia Pacific University
Tourism, Environment
YOUN, Seung Ho
Assistant Professor
Ritsumeikan Asia Pacific University
Tourism, Psychology
LE, Andrew
The Sydney Hotel School
Southern Cross University, Australia
Tourism
WILKINS, Hugh Lee, Jolliffe
School of Management and Law
Edith Cowen University, Australia
Tourism
MORAIS, Duarte
North Carolina State University
United States of America
Tourism
FUJIMAKI, Masami
North Carolina State University
United States of America
Tourism