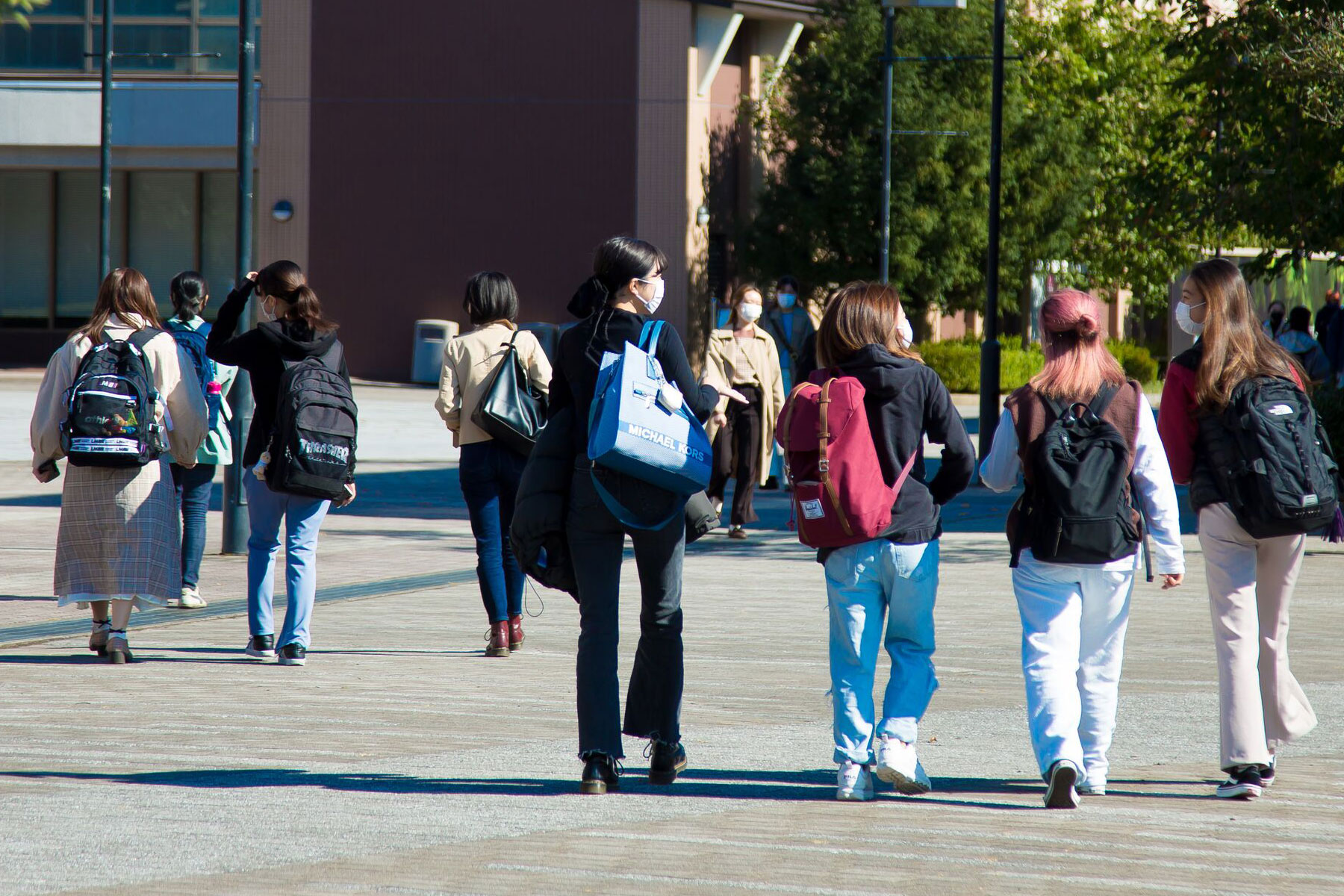 Independent Study Abroad Program
If you are not from a partner university, we will welcome you under our Study Abroad Program to study for either one semester or one year. You will enjoy the same benefits as students following our regular curriculum, and are able to study in either English, Japanese or both. APU will authorize credits for successfully completed courses.
Application Deadlines
| | |
| --- | --- |
| Spring Semester Enrollment | October 22 |
| Fall Semester Enrollment | April 22 |
*The application documents must reach us by the above application deadline.
Application Requirements
・Applicants residing outside of Japan who are currently enrolled in a university, or currently enrolled in a recognized institution equivalent to university in its level, or who have completed 12 years compulsory education with a high school degree and qualified to enroll in a university.
・Minimum GPA requirement 2.00 on a 4.00 scale (refer to Information Sheet for details)
・Requirements for Students whose First Language is not English or Japanese
English-basis students:
| TOEFL®iBT | IELTS | TOEIC® L&R Test | PTE Academic | Cambridge English FCE |
| --- | --- | --- | --- | --- |
| 79 | 6.0 | 780 | 50 | Grade B |
For Japanese-basis students:
| JLPT Level N1 | JLPT Level N2 | EJU - Japanese |
| --- | --- | --- |
| 100 points | 135 points | 250 points *Not including the writing section |
IMPORTANT: Students without language proficiency score sheet must submit official university letter verifying the applicant's language proficiency.
Application Procedures
1. Complete Online Application
Online Application for 2023 Fall semester is currently available from here.
*Do not forget to print out the application data after completion.
*Your online application will be canceled if we do not receive your required documents below by the application deadline.
2. Send us the following application documents by registered mail or by courier service.
2.

Payment receipt of Screening Fees (non-refundable) 11,250JPY

3.

Certificate of University Enrollment (proof of enrollment at your home university at the time of application)

4.

Official Academic Transcripts (please make sure to include a Grade Scale Sheet as well)

6.

Printed Online Application Data

7.

Valid Passport Copy

8. Three passport size photos (Please write your name on the back of the photos)
*The photographs will be used for your Certificate of Eligibility application to the Japanese Immigration and must meet the following requirements. For detailed instructions about the photographs, please refer to the Japanese Immigration Bureau website

・Close-up of the head and shoulders
(4cm by 3 cm, with no background, facing forward without cap/hat)
・

Taken within the last three months

・

Photos taken with the individual's digital camera will not be accepted

・

Eye glasses must be removed

9. Proof of funds - Certificate of Deposit Balance issued by Bank, Scholarship Letter, etc
*It must be dated within three months from the date of exchange program application
*Official and original document is required.
*Minimum amount: 500,000 yen for one semester / 1,000,000 yen for one year
11. "Statement of Financial Support" Form
*If you have a financial sponsor who will be supporting your study abroad at APU financially, you must submit this form.
12. Language proficiency test score sheet or official university letter verifying applicant's language proficiency.
*Non-native speakers of English or Japanese are required to submit either score sheet or official letter.
*We only accept the score of the tests stated in the admission requirement section.
13.

Recommendation Letter – Applicant who is not currently enrolled in University is required to submit the recommendation letter. The recommender should have known you for at least a year or more. The letter from recommender must be submitted by sealed envelope.
IMPORTANT NOTES:
*Original documents are required: No. 3, 4, 5, 8, 9, 11, 12, 13
*English or Japanese translation must be included if the documents are in another language.
*The above documents must reach us by the application deadline.
3. Send to:
Student Exchange Program Team (Inbound),
Academic Office,
Ritsumeikan Asia Pacific University
1-1 Jumonjibaru, Beppu, Oita, 874-8577 Japan TEL: + 81-977-78-1101
After your application is submitted
Assessment usually takes a couple of months after the application deadline. If you are accepted to the program, you will receive a formal Acceptance Letter by mail. Your tuition and housing invoice will also be sent at the same time. After we have confirmed your housing payment, we will apply for the Certificate of Eligibility (COE) on your behalf.
This process usually takes a month and the document will be forwarded to you. Once you have received the COE, you can apply for your student visa application to study in Japan. Following this we will eagerly await details of your arrival dates!
Accommodation and Transportation
Off-campus accommodation will be provided for all study abroad students, which requires students to commute to APU by their own expense. Total housing fees are to be paid prior to arrival and the invoice will be sent to you with notification of acceptance letter.
Accommodation information and fees are subject to change.
Housing Fee Breakdown
Moving-in Fee
33,000 JPY (Non-refundable)
Rent
59,000 JPY / month
*Utility fees and Bedding/Linen fee are included in the above amount.
Estimated Accommodation Fees per Semester / Year
| Program Term | 1 Semester (5 months) | 1 Year (10.5 months) |
| --- | --- | --- |
| Amount | Approx. 350,000 JPY | Approx. 650,000 JPY |
Estimated Transportation Fees per Semester / Year
| Program Term | 1 Semester (5 months) | 1 Year (10.5 months) |
| --- | --- | --- |
| Amount | Approx. 50,000 JPY | Approx. 100,000 JPY |
Insurance (Mandatory)
All students are required to purchase Student Comprehensive Renter's Insurance and National Health Insurance.
| Insurance | 1 Semester | 1 Year |
| --- | --- | --- |
| Student Comprehensive Renter's Insurance | Approx. 4,000 JPY | Approx. 6,000 JPY |
| National Health Insurance | Approx. 10,000 JPY | Approx. 20,000 JPY |
Contact
Student Exchange Coordinator (inbound)
Academic Office
Ritsumeikan Asia Pacific University
E-mail: inbound@apu.ac.jp
TEL: +81-(0)977-78-1101
FAX: +81-(0)977-78-1102