APU offers ″Academic Advising″ for students in order to help them identify and achieve their goals both academically and personally. Advising is conducted through meetings with university faculty and staff, and aims to enable students to achieve the following.
Awareness and utilization of the APU multicultural learning environment
Smooth transition into university student life
Creation of an education plan
Following one's own study plan responsibly
Individual Academic Advising
You must pre-register to participate in an online Academic Advising session.
Check your consultation before make reservation
Depending on the contents, you may be able to receive more appropriate advice by consulting another contact person.
Please confirm the contents of your consultation from the following page.
General Information on Student Services (PDF)
How to Register
Bookings can be made through the following online reservation form.
Academic Advising Online Reservation
If your schedule does not match any of the time slots shown below, please contact us.
Timetable (AY 2022 Spring Semester)
Each advisor's available times are as follows.
Prof. SHIN (Japanese)
Friday, 2nd Period
Prof. CUTTING (Japanese / English)
Tuesday, 4th Period
Prof. TSUTSUI(Japanese / English)
Wednesday, 4th Period
Prof. ROUX (English)
Monday, 4th Period
Please click here for the schedule.
Academic Advising: Our Advisors
You can speak with any of our four academic advisors about any worries you may have.
Location
Held via the Zoom Online Meeting System
※Requires a stable internet connection
Your Concerns
You can speak with an advisor on any issue, large or small. Please consider academic advising for the following topics, or for any other questions you wish to ask.
Difficulty getting used to being at university
Time-management problems
Help with study methods
Unsure what to do now to prepare for your future
Unsure how to write reports
Feeling lost or unsure and wanting to talk with someone
If the situation is extremely urgent, please visit the appropriate office or the counseling room. Additionally, for questions or advice regarding scholarships, please visit the Student Office.
Advising Session
The Academic Office provides advising sessions to students aimed at helping with their studies. The topics differ for each session, but anyone is free to join.
AY 2022 Advising Session Schedule
The advising sessions scheduled for AY 2022 are as follows:
※Session content and timing of the advising sessions are subject to change.
※Details of the advising sessions will be posted as they become available.
April 27 (Wed) "Talk with Senpai / Making 100% Use of APU (Tentative)"
Time Management Session
Cultural Exchange
Stress Management Session
etc...
AY 2021 Advising Session
| | | | | |
| --- | --- | --- | --- | --- |
| Session | Advisor | Lang. | Style | Material |
| 期末試験対策! タイムマネジメントセッション | SHIN-sensei | Japanese | Online | PDF |
| 夏休みの計画をゆるっと考えよう! | CUTTING-sensei | Japanese | In-Person | PDF |
| Let's start thinking about Summer Vacation Goals! | FUDEUCHI-sensei | English | Online | PDF |
| 期末試験対策! タイムマネジメントセッション | ROUX-sensei | English | Online | PDF |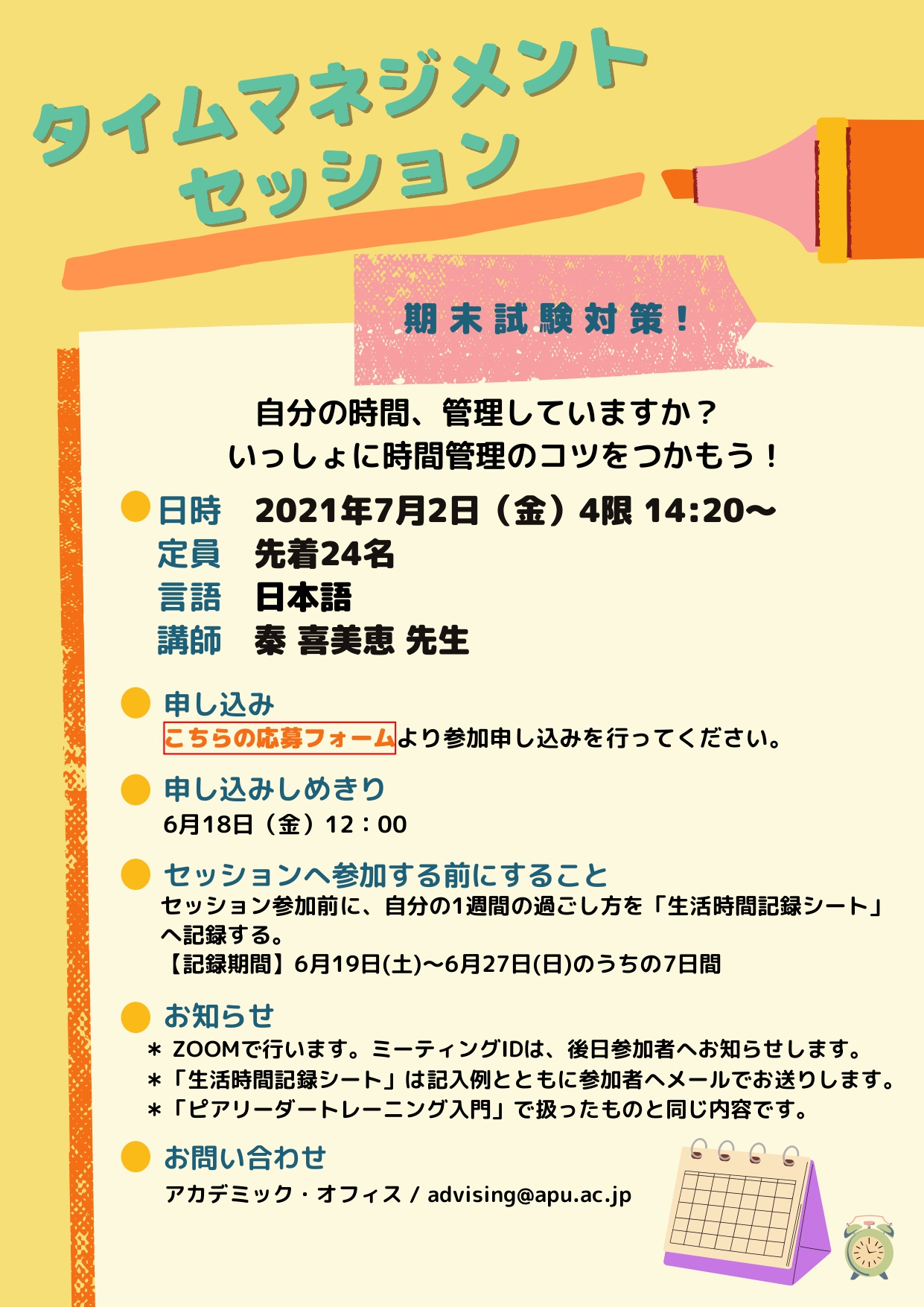 Time Management Session
(Spring Semester)
Let's start thinking about Summer Vacation Goals
(Spring Semester)
APU Mindful Café
(Fall Semester)