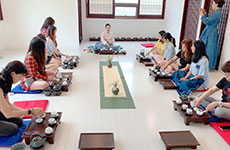 Program Overview
You can participate in curricular summer/winter programs offered at APU's partner universities.
In principle, you will be required to pay program fees.
All credits acquired during the exchange period will be reviewed by each college and the Division of Academic Affairs. If approved, these credits will be counted towards the student's graduation at APU.
Because many summer/winter programs center on intensive courses in English, you must possess a high level of English proficiency prior to participation.
In the event you participate in the program in person, in addition to attending all of the host university's classes, you must actively participate in class activities. Studying and living abroad is an invaluable experience. However, it can also be difficult and stressful. In principle, you are responsible for dealing with any problems you might experience abroad on your own. We expect you to have a keen awareness of your surroundings and the ability to act responsibly to avoid any dangerous situations.
Available Programs
Yonsei University (Korea) website

APS

APM
Tecnologico de Monterrey (Mexico) Brochure

APS

APM
Neoma Business School (France) website

APM
KEDGE Business School (France) Brochure

APM
List of Programs
2021 Overseas Short-Term Winter Programs (PDF) (Updated September 1, 2021)

(For reference) 2021 Overseas Short-Term Summer Programs (PDF / XLSX) (application closed)
Contact (Online)
Consultations are available via email or Zoom. If you wish to have a Zoom consultation, please make an online booking in advance and log into Zoom at your scheduled consultation time. You will be directly contacted by a staff from the Academic Office on Zoom. If you fail to respond up to 5 minutes after your scheduled time, we will treat your booking as a no-show and cancel the booking.
Academic Office
Short-Term Summer / Winter Program Team
+81-(0)977-78-1101
outbound@apu.ac.jp