~the alternative online program for SEND~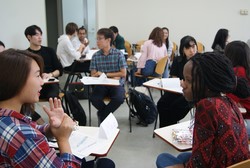 What is the Intercultural Learning Online Class Development Program?
This program is designed for both domestic and international APU students to offer a pre-departure program for new APU international students who enter AY2021, September.
It's an alternative program for overseas internship program SEND* but with the same basic idea.
The goal is to develop students to become an expert in bridging Japan and the world through planning and executing online pre-departure program which enhance the learning of worldwide Japanese leaners, at the same time, students themselves deepen their intercultural understanding.
Students will be participating the PBL (Project Based Learning) in this program. They will learn both their and different culture while executing the educational program in APU's cultural diversity. The core of this project is to design and execute a pre-departure program which introduce Japanese culture and society to new APU international students.
There will be introductory classes on Japanese culture and society before students execute online classes, and they will be divided into small groups with combination of domestic and international students to conduct the class. The instructor will help each group to plan or practice the lessons with other groups and to execute online pre-departure program.
Each group will basically teach two teaching units, i.e. teaching two different topics. For those teaching units their group is not responsible, they will be assisting the group in charge.
The aim of this program is as follows:
Learn the culture of new incoming students and about their cultural adaptation process.
Reflect upon the learning process via individual and group reflection with learning about the others or yourself, your own and other cultures.
Find the ability to improve, set learning goals, plan specific actions and connect them for students' life at APU by taking this course and going through pre-practicum, practicum and post practicum classes.
This program has been made to make an online program which allows students to have intercultural exchange or self-development although it is hard to go abroad or have intercultural exchange in current situation because of COVID-19. This is an program which enhance students' self-development through managing the lessons to introduce their own culture and thinking through both own and different culture. If you are interested in having intercultural exchange or trying something new, this program is the highly recommended one for you.
Application guidance sessions
* Finished.
Application guidance sessions recorded data
Application information
Application Information (PDF) *Updated on Wed, May 5th
Syllabus
Syllabus (PDF) *Updated on Wed, May 5th
Program Overview
Program period
June 19, 2021- August 11, 2021
Number of students
Maximum number of students:20 domestic students, 10 international students
Minimum number of students: 15
Activity place
ZOOM(online class)
Program fee
free
Eligibility

Japanese base students must either be exempted or have completed Intermmediate English.
English base student must either be exempted or have completed Japanese Intermediate Course.
Students must be able to attend all pre-practicum, practicum, post-practicum and guidance sessioins.
* No special allowance will be made even if the program period overlaps with other classes.
Students must be in the 1st to 7th semester at the time of application.
* A student whose status is "study abroad" or "leave of absence" when the program is offered (as of AY2021 Spring Semester) is not eligible to apply.
Students who can participate in the program with the responsibility of representing APU.
Students who work hard in the program with understanding the purpose and the aim of the program.
Students who accept the different cultures and try to actively cooperate with others with deep understanding of other cultures.

Screening method
A comprehensive selection process will be conducted by screening school records with an emphasis on the personal statement and grades.
*Applicants will be contacted separately if an interview is required.
Application Information
| | |
| --- | --- |
| Application period | Thu. May 6, 2021– Thu. May 20, 2021(16:30) |
| Application process | Please apply from the application webpage below. |
Contact
APU Academic Office
Intercultural Learning Online Class Development Program Team:
Hirochi (Mr.), Onimaru(Ms.), Idonuma(Ms.)
Email:send@apu.ac.jp