【Important Announcement】
If multiple students access manaba at the same time while taking online classes via Zoom, it will place a heavy load on the server, and the Internet connection may be compromised. Therefore, please abide by the rules written on the file below when downloading course materials on manaba. 
Regarding the notice for Downloading Course Materials on manaba (PDF)
APU utilizes the "Blackboard" learning management system in order to facilitate teaching and learning, communication between professors and students as well as among students and learning outside of the classroom. From the AY 2016 fall semester, we introduced a cloud-based Learning Management System (LMS) called "manaba" for use in distributing course documents, submitting reports, and managing attendance.
Manuals (For professors and students)
You can find it at Log-in page of manaba.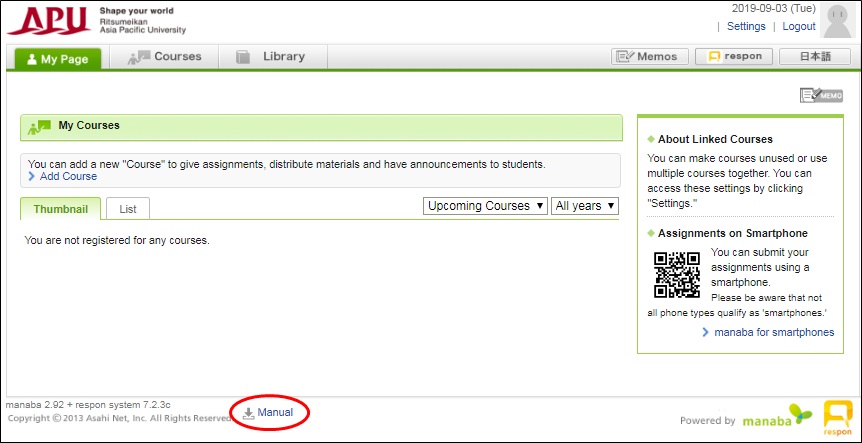 Real world examples of manaba in the classroom
No.1 Interview_APM_Assistant Professor ACKARADEJRUANGSRI P(PDF)
No.2 Interview_APM_Associate Professor SATO Hiroto(PDF)
No.3 Interview_APS_Associate Professor ROTHMAN Steven B(PDF)
No.4 Interview_APM_Associate Professor NAKAJIMA Katsushi(PDF)
No.5 Interview_APM_Assistant Professor FAN Pengda(PDF)
No.6 Interview_APS_Associate Professor JONES Thomas Edward(PDF)
No.7 Interview_EDLSC_Associate Professor CUTTING Miki(PDF)
No.8 Interview CLE Tenured Senior Lecturer WATANABE Wakana(PDF)
No.9 Interview APS Associate Professor KUBO Takayuki(PDF)
No.10 Student's Voice_Introducing students' opinions on the use of manaba and respon(PDF)
No.11 Interview CLE Tenured Senior Lecturer ETO Tomoko(PDF)
Updates
2019.04.02 Version upgrade (Ver. 2.9.2) (PDF)
2019.09.04 Version upgrade (Ver. 2.9.3) (PDF)
2019.03.04 version upgrade (Ver. 2.9.4) (PDF)
2020.04.07 Changes to respon access method (PDF)
2020.09.08 Version upgrade (Ver. 2.9.5) (PDF)
2021.03.10 Version upgrade (Ver. 2.9.6) (PDF)
2021.08.02 Version upgrade (Ver. 2.9.7) (PDF)
For Freshman; Learning Management System of APU
2021.09.21 manaba manual (PPT)
2021.09.21 respon manual (PPT)
TA Orientation Materials
2021.06.10 manaba・respon Guidance Session (PPT)
No
Functions
Details
Video
PDF
1
All
How to make a course, overview of course features
2
Course Members
How to register course members and TAs, TA Roles
3
Tests
How to create and manage tests
4
Assignments
How to create and manage assignments and submission status
5
Projects
How to create and manage projects and teams
6
Resources
How to upload and manage course materials
7
Library
"(Students) Managing Assignments
(Instructors) Managing Materials"
8
Attendance (respon)
How to issue and manage respon cards for attendance
9
Surveys (respon)
How to issue and manage respon cards for surveys, FAQ
respon
"respon" is an application designed for use with "manaba." It can be used for taking real-time surveys or for managing attendance. *Requires setup ahead of time. Details can be found in the user manuals shown below.

respon setup guide (PDF)
Recommended Operating Environment
manaba
OS
Web Browser
Windows
Google Chrome
Mozilla Firefox
Internet Explorer
Microsoft Edge(Ver.79 or later)
Mac
Safari
Mozilla Firefox
iOS
Safari
Android
Google Chrome
respon
Computer
OS
Web Browser / Version
Windows
Google Chrome
Mozilla Firefox
Internet Explorer
Mac
Safari
Mozilla Firefox
Smartphone
&
Tablet
iOS
9.0 or later
Android
5.0 or later
Inquiries
Information Systems Administrative Office
Location: Building D, 3rd Floor Hours: Mon-Fri, 10:00-16:30
Inquiry Form