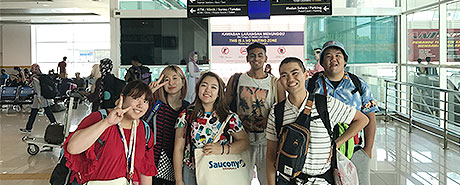 About the SECOND Program
The SECOND program (SElf CONfirmation and Development) is designed to offer 1st - 3rd semester students (Domestic and International) visiting Southeast Asia through research work, more understand about the diverse cultures of Southeast Asia. At the pre-program sessions, participants choose a research topic learn about the culture and conduct research about the countries. During the field research period, students will have the chance to meet many Southeast nationals. The SECOND program is developed as a program that enables a higher level of intercultural insight improvement and subsequent professional education.
Please refer APU official website for program details.
2021 Fall Semester
In AY2021, fall SECOND program has been cancelled because of entry restrictions and mandatory quarantine requirements in place in the destination countries.
2021 Spring Semester
Cancelled.
(For your information) 2019 Fall Semester recruitment information*
*Recruitment information for spring semester is almost same as the following. (The application was open until late April, pre-program session and the fieldwork held about for 2 weeks in August to September)
We will recruit applicants for the SECOND Program for 1st-3rd semester's students as shown below. If you would like to participate, please apply after reading the application information.
Eligibility: 1st – 3rd semester students (Both International and Domestic Students)
Application Period: Fri. Sep. 20 - Thu. Oct. 24, 2019 (16:30) *The Application Period has closed.
Application Process: Please complete the Online Application form after reading the Application Information and Syllabus carefully.
(Note1) Online Application form (LimeSurvey) will be accessible when the Application Period starts.
(Note2) If you have any questions about the Online Application, please contact the E-mail address of FIRST and SECOND Program:first@apu.ac.jp or visit the Academic Office directly.