University-wide Education
An evolved, university-wide learning program that ties in with and supports undergraduate studiesAPU will further develop its exceptionally global environment and education to cultivate basic skills that are sought by today's society. We strengthened university-wide training, which includes the first-year program utilizing international education on-campus housing, the introduction of ICT and data science education, and leveraging networks on and off campus. We thus promote learning within each college as well as studying issues that connect with the world today.
Four-year Learning Structure Diagram
Creating new value through learning backed by the foundations of social science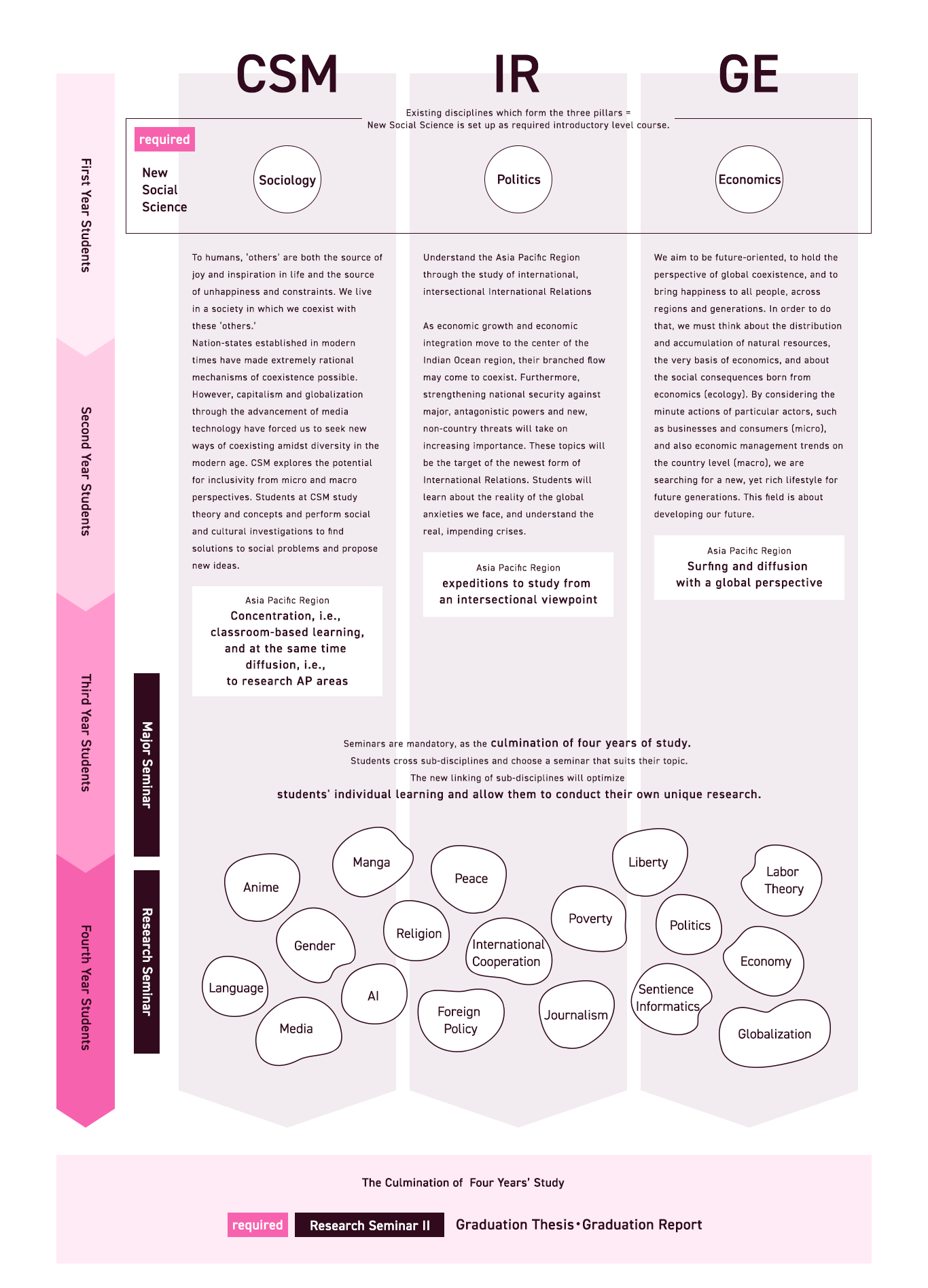 Learn skills that are viable in the international community, with the world as your campus
The world is the campus in the Expedition mode of learning in the College of Asia Pacific Studies. We have expanded short-term intensive courses, field studies, and mutual access online to and certification for courses during the regular semester with our prestigious partner universities overseas that have concluded student exchange program agreements with us. A strong emphasis is placed on the international validity of the specialized research area in the Expedition mode, which includes opportunities to participate in internships at think tanks overseas, embassies, and international organizations.
Career after graduation
Graduates of the Collage of Asia Pacific Studies work on a global scale.
Syllabus
The APU Syllabus provides an outline and schedule of the courses available at APU. Students are able to read the syllabus and finalize a course plan before registering for their courses.
*APU has incorporated "Course Numbering" as a way of indicating factors such as where a subject is situated within the curriculum, as well as how the curriculum is systemized. "Course Numbers" can now be found in the syllabus of every course/subject to allow students to identify with relative ease the subject/course which Area of Study it falls into, etc.