Finish the required English courses in half a year through short-term study abroad!
What is EXCEED?
EXCEED is a program for first-year students which combines an intensive English language study program and short-term study abroad program to help students earn credit for their required English language courses in only half a year.
Students starting their required English studies from the "Pre-Intermediate" level are eligible to participate. Students can of course improve their English and register for more credits than they would normally be able to, while also getting lots of opportunities to interact with local students, APU graduates, and businesses in the destination area. This program is recommended for students who want to have new experiences and meet new people while focusing on their English studies!
Advantages of EXCEED 1
Complete the Required English Courses in half a year!
At APU, Japanese-basis students are required to earn credit for required English language courses in order to graduate. The starting level for a student's required English language courses is determined by the results of the placement test taken just after enrollment. For example, a student who starts at the "Elementary English" would take 4 courses, "Elementary English," "Pre-Intermediate English," "Intermediate English," and "Pre-Advanced English," one per semester for two years of study total.
The EXCEED Program is aimed at students starting at the Pre-Intermediate level. Students can take Pre-Intermediate, Intermediate, and one more English course to prepare for study abroad during their first semester. Part of the Intermediate course is held at the university in Singapore and students can study English intensively on-location. Moreover, if a student takes an English assessment exam while studying abroad in Singapore they can possibly earn an exemption for Pre-Advanced English, which would make it possible to complete all their required English language courses in only half a year.
After completing the required course, students can register for even higher-level English language courses, spend time to preparing for exams for studying abroad, or even register for non-English courses of their interests, giving them more options for their next step!
Advantages of EXCEED 2
Register for 8 credits beyond the maximum credit registration limit!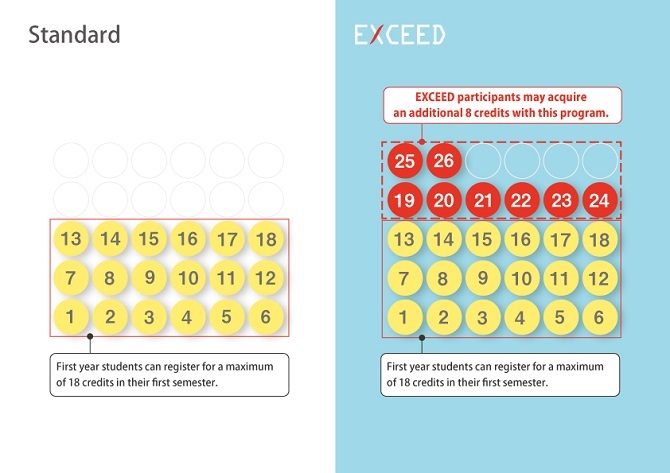 Normally, first year students can register a maximum of 18 credits in their first semester. However, when students participate in the EXCEED program, it is possible for them to register for an additional 8 credits. Of course they will be taking 8 additional credits worth of courses; therefore, it will not be easy. However, through the program, students can acquire skills and earn extra credits worth their efforts.
Students must earn at least 124 credits in order to graduate from APU. If a student participates in the EXCEED program and earns the maximum number of 26 credits, he/she will have earned 20%, or 1/5 of the 124 credits he/she needs to graduate in only half a year. If students can earn plenty of credits early they will have more flexibility and options later. Hence, through EXCEED, they can gain more freedom with these 8 credits!
Advantages of EXCEED 3
Short-term study abroad at Singapore's SIM!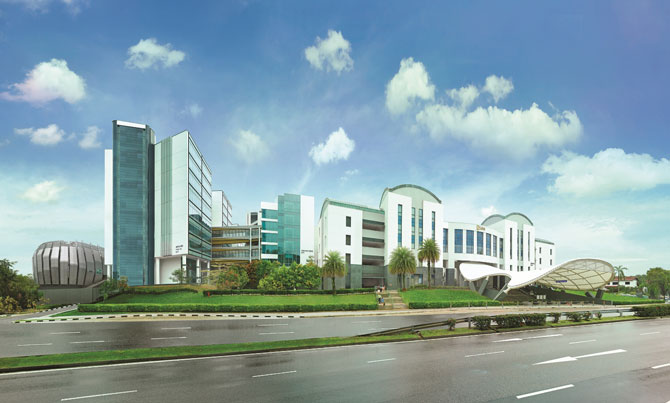 The summer program destination is the Singapore Institute of Management (SIM). There, students will undergo 4 week-intensive English study. However, this English study does not mean just sitting in a classroom and studying. Program participants will participate in research activities with local students, attend business related workshop conducted by the SIM staff, and participate in exchange events with APU graduates in Singapore.
Some APU graduates will be in charge of the program on the Singapore side; thus, students can have a sense of security while participating in the local events.
Singapore has a multicultural society with English as one of its official languages. In everyday life people have their own cultures but live together and share a common language. Although APU is a multicultural campus, at SIM students can really experience living in a multicultural society and improve their awareness of cultural symbiosis. Of course there are also many interesting places to visit, so this will be a very busy but fun summer vacation.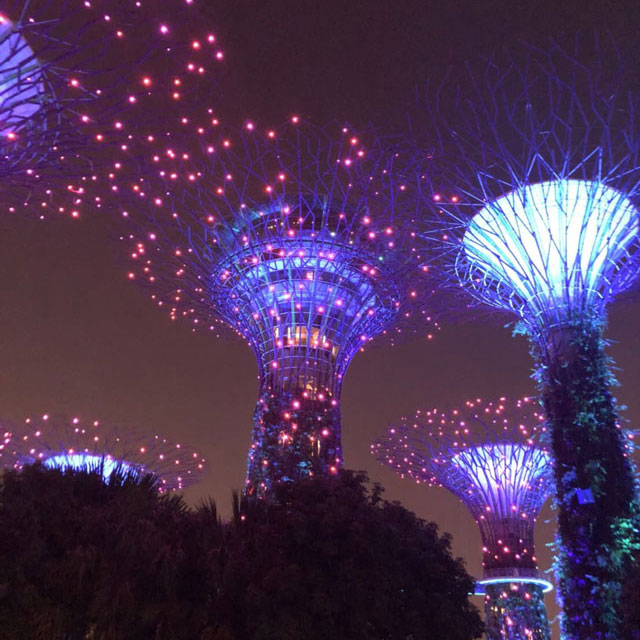 Advantages of EXCEED 4
Finish in the first semester!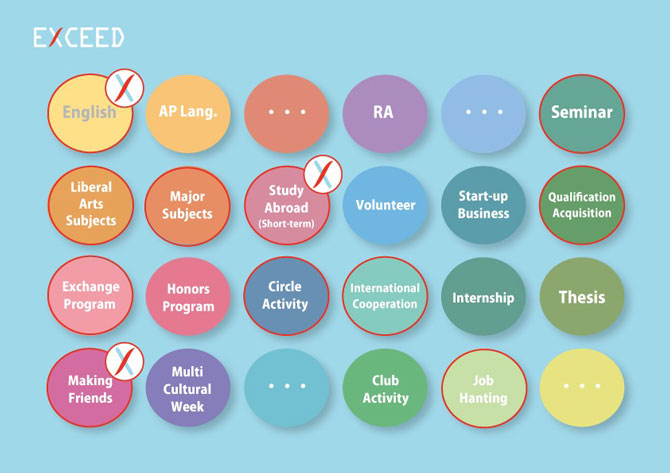 Some students are probably thinking, "After I enter APU, I want to try this thing," or "I want to do that thing."
As previously explained, EXCEED is an intensive English language program packed with tons of benefits. In students' first semester, they will be able to have many different experiences. In addition to improving their English, they can meet lots of new people and encounter new situations to help them realize, "This is what I really want to do!" or "What am I really good at? What can I improve? What are my weak points?" The program will give students a variety of opportunities to learn about themselves. Also, students will spend their first semester working hard together with the friends they make in the EXCEED program, which will expand their view of themselves and the world.
MESSAGES

James Blackwell
Associate Professor
Director of English
Center for Language Education
Pre-Intermediate English students, are you looking for a challenge? Do you want to speed up your English learning, study abroad in your first year and learn the skills that you will need to study and work internationally in the future? If you answer YES, then you should consider joining this year's EXCEED program. This program will put you on the fast track for success with English. In one semester you can complete all of your required English subjects, study abroad and gain a test score to qualify for student exchange later in your degree. By a combination of regular classes, a special lecture at APU and our study-abroad course, you will boost your ability to communicate in English, learn academic English skills and apply these skills to live and study successfully in another culture. Our partner institution abroad is the Singapore Institute of Management (SIM), a highly-ranked university in Singapore. When you study in Singapore, you will be able to use English on a daily basis to find out about Singaporean culture and how people live and work in this vibrant international community. You will also be able to meet APU alumni who work in Singapore and get ideas on the types of jobs that will be available to you around the world after you graduate from APU. So if you want to exceed your expectations for university life, then consider joining this program. You had better apply quickly, because this program is in high demand.
Remember: EXCEED TO SUCCEED!
Application Information
The recruitment of the 2020 Spring semester program has been cancelled due to the COVID-19 pandemic. Future changes in the situation may allow for the resumption of EXCEED program in another schedule.
| | |
| --- | --- |
| Next Round Application Period (Tentative) | April 8th – April 17th, 16:30 Japan Standard Time |
| How to Apply | We will release an online application form in early April 2020 |
| Eligibility | Japanese-basis Students in their first semester in the AY 2020 spring semester who start their required English courses from the "Pre-Intermediate" level |