Japan Business Case Challenge (JBCC) is a case competition held in English for Japanese undergraduate students. A case competition is a competitive event that is part of the education provided at overseas business schools. JBCC aims to train Japanese students through a regular weekly workshop held in the two months prior to the event itself, equipping students with the skills necessary to participate in international case competitions.*1
2017 marks the third iteration of the event, and Robert Walters Japan K.K. will be the naming sponsor for the second year in a row. In total, eight companies will serve as sponsors, including Japan Airlines Co., Ltd. and Joyfull Co., Ltd.
[Comments from students of the APU JBCC2017 Implementation Committee]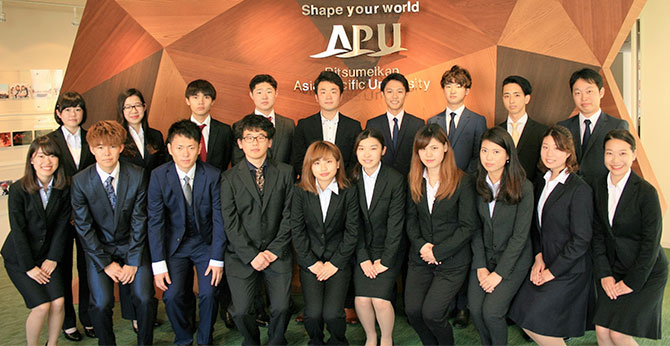 JBCC was created with the aim of raising the number of globally competitive Japanese students. Case competitions are held around the world, and have become a part of the education provided at international business schools. In recent years, a growing number of students from Asia (Singapore, Thailand, Hong Kong, etc.) have attended international case competitions, achieving a certain degree of success. Japanese students, however, are still rarely seen among participants at such events. We believe that having Japanese students compete with international peers in case competitions and achieving success will enhance the values learned by such students at their respective universities. This will support an improvement in education levels at Japanese universities.
JBCC provides an opportunity for Japanese students to perform on a global stage through a case competition. In Japan, case competitions have not been adopted to the same extent as they have been abroad. There is a shortage of opportunities that allow students to cultivate the English, presentation, communication, and other skills required to participate in such competitions. By setting up JBCC as a workshop series and competition aimed only at Japanese students, the objective is to provide an opportunity for such students to cultivate the skills necessary for case competitions, while creating a platform that propels them to participation in international case competitions.
JBCCHP: http://apu-jbcc.com/
Facebook: https://www.facebook.com/JBCC.APU/
[Period] November 30 (Thu) to December 3 (Sun)
[Venue] Ritsumeikan Asia Pacific University (APU), 1-1 Jumonjibaru, Beppu City, Oita Prefecture
[No. of participants] 48 (APU: 20, other universities: 28), 4 individuals per team, 12 teams in total
[Participating universities] 9 (Aoyama Gakuin University, Okayama University of Science, Keio University, Akita International University, Saitama University, University of Tokyo, Hitotsubashi University, Ritsumeikan University, Ritsumeikan Asia Pacific University)
[Language] English
[Schedule]
November 30 (Thu)
Preliminary workshop led by the College of International Management,
Associate Professor Damon DRUMMOND
December 1 (Fri)
Opening ceremony @ Multipurpose Hall (Building EII, APU Co-op 2nd Floor) 10:00
Keynote speeches (Robert Walters Japan K.K.; Joyfull Co., Ltd.)
Exchange session with the Global Business Case Competition*2 *2For more details, please click here.
Announcemnt of case (corporate challenge)
December 2 (Sat)
Start of qualifying presentations
・The 12 teams will be divided into three divisions, and the teams that receive the highest evaluation from the jury panel in each division will advance to the presentation finals.
・Each presentation will be allocated a total of 30 minutes (setup: 5 minutes, presentation: 15 minutes, Q&A: 10 minutes)
Evaluation by jury, announcement of results
December 3 (Sun)
Final opening ceremony @H202 10:00
Start of presentation finals
Evaluation by jury panel
Closing ceremony
Reception
The keynote speeches on December 1 and the final presentation on December 3 are open to the public.
[What is a case competition?]
Originally developed in the US, case competitions are competitive events in which teams from around the world are pitted against each other. The goal of these competitions are to strengthen practical thinking, team work, problem discovery, and other skills. The participants work on a case study provided by a sponsor company, and propose a solution to a specific management problem. The quality of these proposals and corresponding presentations is evaluated by a jury panel, which includes representatives of sponsor companies. Case competitions have varying rules, but the general practice is to have teams of four individuals tackle a specific problem within an allocated time frame (typically around 24 hours).