Raising Awareness of Halal, Vegetarian, and Vegan Diets
Vegelal endeavors to raise awareness of halal, vegetarian, and vegan diets. On January 9, the organization held a Vegelal Mixer event in the APU cafeteria for people to learn more about halal, vegetarianism, and veganism.
Some eighty people participated in the event, including students, food services industry management, local government officials, and APU faculty and staff.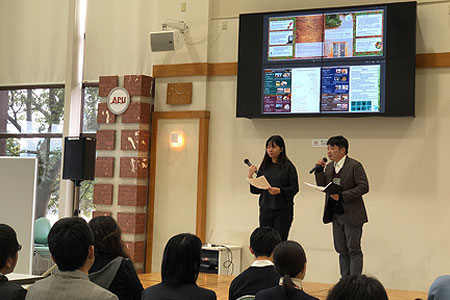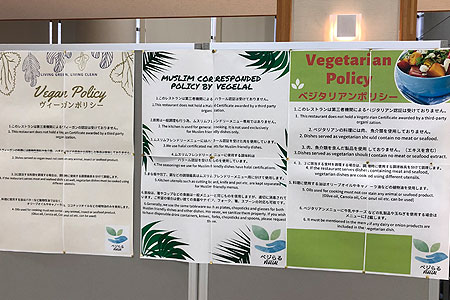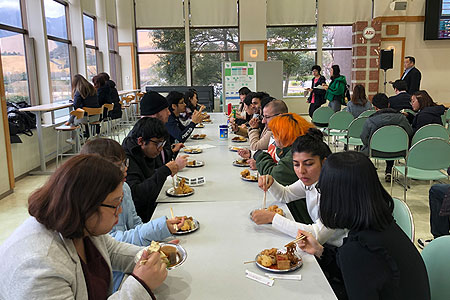 Local food industry representatives started the event by presenting menu items created with the help of Vegelal members. After the introduction, attendees enjoyed a buffet made up of six halal, vegetarian, and vegan dishes: toriten (chicken tempura special to Oita Prefecture), oden (one-pot dish of various ingredients in a soy-flavored broth), yakisoba (fried noodles), gyoza (dumplings), sushi rolls, and kushiage (deep-fried and skewered finger food). Each item was favorably received, surprising participants with the idea that familiar Japanese dishes could be made halal, vegetarian, and vegan. The halal toriten looked to be the most popular of the buffet.
Next, students with halal, vegetarian, and vegan diets talked about the kinds of foods they normally eat, as well as some of the inconveniences they have experienced when trying to have meals. They also discussed possible solutions with the food services industry representatives in attendance. Stories of these students' experiences were easily relatable even to those just gaining awareness of these diets. One presenter said, "Even if there is no halal, vegetarian, or vegan items on the menu, we would love it if you could just accommodate personalized requests, or provide an option-based menu that individuals can choose from."
Hopefully this event will lead to better understanding and awareness of halal, vegetarianism, and vegan diets, as well as lead to an increase in the number of restaurants that can accommodate things like personalized requests.