On Wednesday December 10, 2008, a "Special Extension Course, Job Hunting Training Workshop" was held for APU students as they embark on their job hunting and welcomed TAC Co., Ltd. Full-Time Lecturer, Ms. KASADA Mayumi.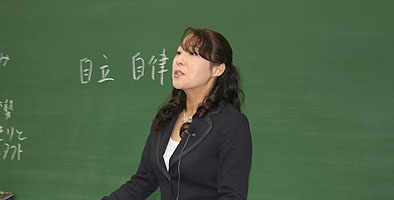 There were many students in suits and the lecture started in an atmosphere brimming with motivation about seeking employment. The students who attended the lecture learned the key points to job hunting, intermixed with demonstrations, beginning with how to bow and how to respond to trouble, right through to basic responses in a job interview.
Ms. KASADA said, "The most important thing in job hunting is a thorough self-analysis and industry analysis. Have a sound understanding of your strong points and be confident in making use of them. Even in these tough job hunting conditions, please don't run away, be positive and move forward towards your goals." and they then brought the lecture to an end with their newly-learned bow.
One student who attended the lecture gave their impressions, "I couldn't come up to the front and do the demonstration because my self-analysis wasn't good enough, but it was very helpful to hear how my friends answered." to which a student who did the demonstration said, "I got nervous when I though of it as an interview. I couldn't get out what I wanted to say but I want to make use of this experience the next time I get the chance".