On Tuesday, December 2, 2008, Watami Co., President & CEO and also IKUBUNKAN YUME GAKUEN Chairman, Board of Trustees, Mr. Miki WATANABE visited APU on a campus inspection and enjoyed a talk with President Monte CASSIM and students studying at APU.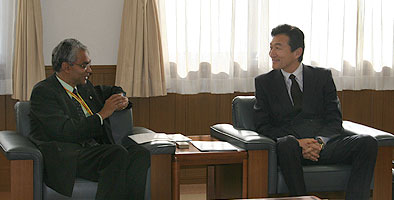 During their talk, President CASSIM said: "There is great importance put on food safety these days. I am deeply impressed with your management ideology which is in sync with the real economy." In response Mr. WATANABE spoke of the background of business development, "I have expanded our business starting with the food service industry to include nursing, agriculture, environment, home delivery, and as an individual, school management and hospitals etc. I think of my philosophy as 'wanting to do my best and get involved in that which is needed by society'. From a standpoint involved in the food service industry, I want to go ahead with the living (organic farming) revolution and convey the importance of life to children. Furthermore, our business has developed from the link with children in developing countries who are being slighted and whos lives we want to protect."
The conversation covered a range of topics such as the details of the opening of APU, its philosophy and initiatives towards nurturing human resources. Mr. WATANABE spoke from the standpoint of a business manager and as Chairman of IKUBUNKAN YUME GAKUEN. Mr. WATANABE kindly spoke to the students who also attended and received an explanation of the activities of the Sun Piccolo Project student circle from one of the students to whom Mr. WATANABE then described his involvement in the construction of a school in Cambodia and the running of an orphanage, "schooling (education) his a great force in a nation's development".
Mr. WATANABE is a pulling force in franchise store development in the food service sector as the President & CEO of Watami Co. and also has a deep knowledge of environmental, food, educational and aging issues, and is expanding his business through setting up nursing, agricultural and environmental enterprises. Mr. WATANABE took up office as IKUBUNKAN YUME GAKUEN Chairman, Board of Trustees in 2003 and has, as well as putting his efforts into education, set up School Aid Japan and been actively involved in educational support such as the construction of schools in developing countries.
Click
here
for more information on School Aid Japan -the developing country educational support program which Mr. WATANABE is Chairman of
Link to Mr. WATANABE's web-site
http://www.watanabemiki.net/