Japanese Week began on Monday, December, 15, 2008 and will hold a range of events to introduce Japanese traditional culture.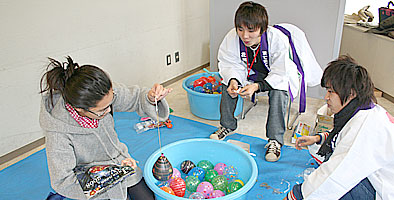 Every year APU holds Multicultural Weeks to introduce the culture and language of the students studying here from 87 countries and regions around the world. In the 2008 Spring Semester, 5 countries/regions were introduced over approximately 1 month such as Chinese Week and Thai Week. During the Fall Semester, countries and regions such as Japan and Taiwan will be introduced starting with Latin America Week.
During the week you will be able to have a go at Japanese calligraphy, try on Yukata and happi (traditional Japanese costumes), try making rice cakes (free tasting) and try your hand at Yo-Yo fishing and target shooting at the stalls introducing the culture of 'Japan' which will be nostalgic for domestic students, and something new for international students. On Friday 19 (the final day) you will be able to see a powerful play performance with a historical Japanese theme at the Millennium Hall.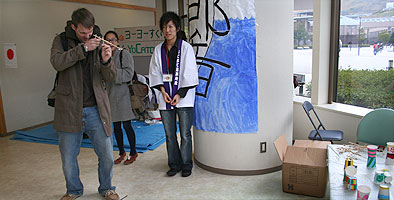 Schedule for Japanese Week. (Dec 15 –19)
Time:Monday, December 15, 2008 –Friday, December 19, 2008
Venue:APU Campus (1-1Jumonjibaru, Beppu)
Schedule:
Monday, December 16 –Thursday 18
10:35 –15:50 Japanese calligraphy, try on Yukata and happi (Cafeteria)
December 15(Mon)
"Kyousai", Stalls, experience free of charge (Cafeteria)
December 16(Tues)
12:25 –14:00 Rice cake making, free tasting (Cafeteria)
14:15 –15:50 Japanese Tea experience(Student Union Bld. 2F, Japanese Room)
18:00 –20:00 Bamboo lanterns: 850 bamboo lanterns (APU Wave Amphitheatre)
December 18(Thu)
15:30–17:00 Café Live (Cafeteria)
*Band Performance, performance by Comic Storytelling Institute, Japanese calligraphy performance
December 19 (Fri)
18:30-20:30 Final Performance (Millennium Hall)
* Historical Japanese themed play performance