On Wednesday, December 10, 2008, a seminar was held for APU students and faculty members about intellectual property and copyrights.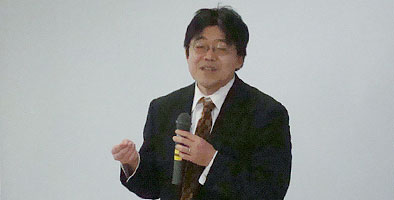 The "Regional Collaboration Research Consortium Oita" -comprising of seven universities and colleges in Oita Prefecture centering on Oita University - applied to and was adopted by the Ministry of Education, Culture, Sports, Science and Technology, Industry-Academic-Government Strategic Development Program. As part of this program, the seminar was held aiming to deepen people's awareness and understanding of intellectual property and maintenance of university intellectual property management structures.
The seminar welcomed Oita University Institute for Innovation, Deputy Director, Intellectual Property Department, Professor ITO Masami and Oita University Institute for Innovation, Guest Professor OOI Toshitami. During their lecture they gave an outline of intellectual property and discussed the trends in Japanese pro-patent policy, copyrights and the importance of intellectual property activities in universities.
Mr. OOI explained how the universities of today are a hub of creation and that their education, research and contribution to society are sought after by society and therefore it is very important to take ownership of, protect and manage a university's intellectual property.
The APU faculty staff and students compared this against their own research and study activities and asked plenty of questions about doubts they feel daily.
In the future, the seminar plans to further promote people's understanding and awareness of intellectual property and copyrights while focusing its target audience and clarifying its themes.