On Thursday, December 18, 2008, Prof. LEE Yuan Tseh, Nobel Prize Laureate in Chemistry (President of Emeritus and Distinguished Research Fellow, Academia Sinica) visited APU, enjoyed a talk with President CASSIM and delivered an RCAPS seminar.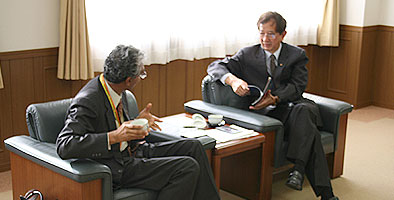 During his conversation with President CASSIM, Prof. LEE spoke about the 'Brain Drain, Brain Gain and Brain Circulation' phenomenon, "Many developing countries are concerned about the richer countries attracting their best and brightest brains (Brain-Drain). However, these brains can gain education and expertise overseas (Brain-Gain) and then, when they return to their home country, can play a major role in its development (Brain-Circulation). So for developing countries, this phenomenon also has great benefits." In response, President CASSIM said, "At APU we have students from 87 countries and regions so we feel that we are playing an important role in 'Brain-Gain'. We hope that our international students can make a great contribution to their countries development and complete the 'Brain Circulation' cycle.""
After their talk, Prof. LEE enjoyed a discussion with approximately 20, primarily Taiwanese, students who were keen to her about his experiences. Prof. LEE gave the students a few words of advice, "Will you have become your own master by the time you graduate? Please get into the habit of studying and learn how to learn with your friends and by yourself –learn to go beyond the university teaching and become your own master."
Following this, Prof. LEE presented a seminar entitled "Global Efforts for a Sustainable Future" in which he discussed how the world has to work together as one –not as many little government bodies –to solve the problems the world is faced with.
Prof. LEE is a highly regarded scientist and academic who has made great contributions to the science community in Japan and the world and has played a major role in the development of the scientists of today and the future. In 1986 he became Taiwan's first Nobel Prize winner by winning the Nobel Prize in Chemistry.