On Wednesday, December 10, 2008, DO Thi Thu Phuong (Master's Candidate, GSAPS, Vietnam) presented an RCAPS seminar entitled "Japanese Popular Culture in Vietnam-The Impact of Japanese Manga and Anime on Vietnamese Youth" as an opportunity to gain feedback from her peers as she works towards the completion of her research.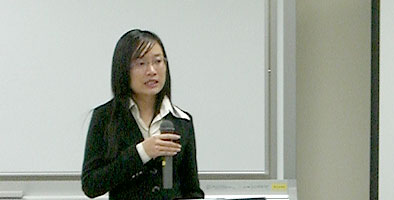 Ms. DO discussed the findings of her research into the impact Japanese comics and animated programs/movies are having on Vietnam. Japanese manga and anime first appeared in Vietnam in 1992 with 'Doraemon' and since then sales of Japanese comics have surged. According to her findings, 95% of the over 800,000 comic books sold every week in Vietnam are translations of foreign comics –mostly Japanese. During her lecture Ms. DO described the reasons why Vietnamese youth enjoy Japanese manga, "One of the main reasons why manga are so popular is because the readers can dream and hope –they can nurture their dream of someday studying in Japan and studying the Japanese language". "Vietnamese youth want to learn Japanese so that they can read the original Japanese text –not the Vietnamese translation version".
At the conclusion of her talk there was a lively discussion about the implications and reaction from society to such a phenomenon. The lecture was attended by many students and gave Ms. DO some great feedback.
RCAPS conducts seminars inviting lecturers from within and outside APU with the aim of network building and sharing information on Asia Pacific Studies.