On Friday, January 23, 2009, the "6 the Union -6th Year Students Graduation Performance" was given at the Millennium Hall by a total of 80 circle members of 7 APU circles set to graduate in March and student volunteers.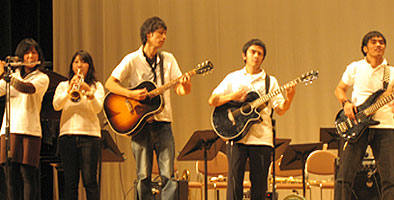 This performance was held for the first time by the Student Organization Support Committee (SOSC), who also planned and managed it, aiming to provide a place for 4th year students awaiting their graduation in March to show the results of their efforts over the last 4 years to their juniors and people who have given them support to date.
Members of Bun Cha Cha, Soul-Gospel Circle, the APU Wind Orchestra, Nifty Studio, Double Dutch Circle, Life Music, APU Soul Sound Style and student volunteers participated in the performance.

The circle members were able to show the results of their 4 years of practice and put in an energetic and well finished performance which only the 4th year students could deliver. The audience was also charmed with a seldom seem collaborative circle performance. A larger number of students and junior circle members gave a rousing cheer which brought the performance to a close in fine style.

At the conclusion of the performance, representative of SOSC, the circle which planned and managed the event, OGAMI Shinji (APM4, Japan) spoke of his impressions, "We held this event aiming to flesh out circle opinions and strengthen inter-circle cooperative relationships. As a result, everyone came together and we were able to put on a successful performance. In the future I hope to plan more collaborative, not just individual circle performances".

The Student Organization Support Committee (SOSC) was established in Fall 2007 aiming to "provide support for circles to revitalize APU". Circles are divided into the following 3 groups: 1) Sports, 2) Culture and 3) Arts, Academic, Social and Volunteer. SOSC provides total support for circle activities such as securing places to practice and providing places to give presentations. They also produce the information magazine "CUEO" and are putting their efforts into publicity.