AP House is the largest international education dormitory in Japan and houses both domestic and international students who spend their daily lives together. Upon entering APU, International students spend their first year at AP House learning the habits of the Japanese lifestyle. A student Resident Assistant (RA) resides on each floor and provides the residents support with exchange promotion, hygiene management and solving any issues which may arise in their dormitory life.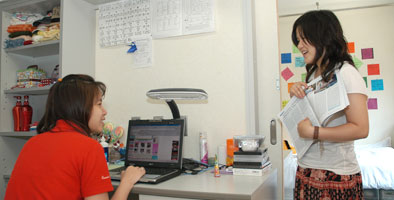 AP House can accommodate a total of 1,310 people in its 378 shared rooms, in which domestic and international students live together, and 932 private rooms. The House aims to be an International Educational Dormitory in which students can build mutual exchange and unity and improve their inter-cultural communication and language skills through meaningful communication.

Furthermore the House Master system provided by faculty staff aims to deal with educational support and counseling and provides students and faculty staff with opportunities for close interaction from the time they enter the university. There are also a range of programs held for residents such as AP House seminars, language circles and fieldtrips.

In spring 2009, the new learning support "Language Learning Community" (LLC) education project will begin in the dormitory. This program targeting new domestic and international students, aims to boost their respective English/Japanese language ability and form the learning habits of university students.

HIRAOKA Shinya (APM2, Japan), who will begin working as an RA leader this coming spring, called out to the incoming spring AP House residents, "The job of an RA covers a range of aspects such as providing help with intercultural communication, attending to people when they are sick and solving problems that arise in daily life due to cultural differences so that new residents can adjust to dormitory life quickly. To everyone who will be entering AP House in April: AP House is a great environment where you can engage in exchange regardless of nationality and culture. Please take the initiative, make lots of friends and open up your APU life. As an RA we will give you all the support we can. "

AP House is not merely a place to live; it's a place that is making great leaps forward as an international educational dormitory. Please expect great things to come.