From February, Tuesday 10 till Friday 27, 2009, the APU Premier Organization (Academic Research, Social and Service field) PRENGO carried out their volunteer activities in the Kingdom of Thailand. This was the 11th time for them to travel to this area.



Every year in February and September, PRENGO is involved in regional volunteer activities such as economic, health and hygiene, and educational assistance. Their activities are based in Ban Khao Huai Mahad School situated in the Rayong Province in the Kingdom of Thailand under their philosophy of "the creation of more educational opportunities and improvement of the educational environment by the people of the region."

This is the 6th year that the circle has been involved in aid activities in this area and modeled on the "one village one product" movement originating in Oita, its economic aid efforts such as boosting household budgets and income through the manufacture and sales of Thai style pants, are going well. They are also seeing results from the "Hyaku Masu Keisan" (Hundred Square Calculations) which was introduced in 2008 aiming to improve basic academic ability.

The Mahad Area aid efforts, now reaching fruition, are centered on raising the independence of the locals and observing new areas to be assisted.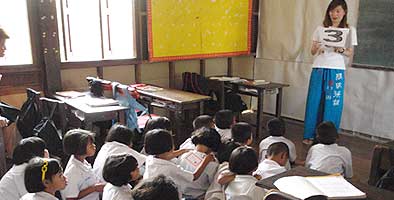 At the conclusion of their visit, PRENGO representative UEDA Yuito (APS2, Japan) spoke of the results of their efforts and of the prospects for the future, "We can see the results of 6 years worth of support towards the Mahad Area and we are currently selecting the next area to be supported. We will never forget the many people who have supported us such as our seniors, the university and people of the region who have worked with us as we continue our support work in the aid areas of Thailand and work to create the future of Thailand and furthermore, the future of the Asia Pacific region."

PRENGO will continue putting their efforts into working towards the sustainable development of the aid areas in Thailand.