From Saturday, March 3 until Tuesday, March 31, 2009, 633 new entrants and new friends of APU from 36 countries and regions entered AP House out of a total of 993 new entrants.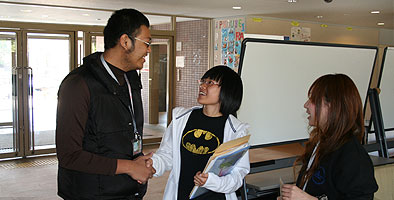 On the morning of Monday, March 30, new entrants VEDRATTINAME Darini (APM,Canada) and HUBER Pauline (APM,Canada) arrived at AP House and appeared keen to get on with starting their new lives at APU and make new friends.

The two students spoke of their impressions of APU, AP House and their goals while they are here, "It's such a lovely dormitory and campus and much bigger than I expected. While we are here I hope that we can learn lots of Japanese, make lots of new friends and see Beppu and Japan."

AP House Resident Assistant (RA*) ISEGAWA Hirofumi (APM2, Japan) spoke of his impressions of and expectations of the new residents, "Some of the new residents appeared nervous in their new surroundings but I'm sure as they get used to the place and make lots of friends they will do well. As an RA I want to give them my full support."

Prior to the arrival of the new residents, the new 2009 Spring RA's took up their new posts and training was held for them from Monday, March 16 through to Sunday 22.

This training covered disaster training, how to respond in an emergency and a range of topics such as the know-how needed so that that the residents can spend their dormitory lives safely, and the plans for the different events held at AP House.

With the conclusion of the April, Thursday 4 Entrance Ceremony, they have begun their student lives as members of APU.

*Resident assistants, or RAs, are domestic and international students who, in collaboration with the university, reside at AP House with the aim of supporting the dormitory students in their daily lives. The role of the RA is to provide assistance to international students who have come to Japan for the first time to help them adapt to the Japanese lifestyle, assist them in getting used to dormitory life and encourage interaction between the boarding students.