教育プログラム|学生生活
Apr 14, 2009
On Thursday, April 9, 2009, a welcome ceremony was held in the AP Hall at AP House to welcome the first batch of students into APU's new "Language Learning Community" (LLC) educational program.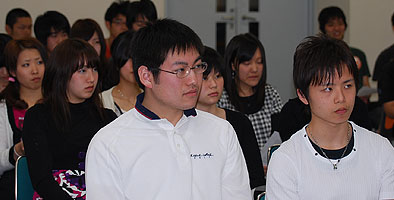 The Language Learning Community(LLC) is a new educational support program in AP House and was established to nurture APU international citizens with high levels of language ability.

This new program aims to improve the English ability of domestic students and the Japanese ability of international students and form study habits. It provides a special program whereby the study time is set and LLC support staff and senior students provide study guidance and advice to the students in line with their study goals.

The thirty six students of the first LLC batch (18 domestic and 18 international students) and faculty members in charge of the LLC attended the program opening ceremony.

Deputy Dean of Academic Affairs and person in charge of the LLC, Professor KONDO Yuichi gave a few words of encouragement, "We expect that you –the students who have been selected as LLC students –will all be active in international society. You will all have the back-up of faculty and student staff, so please do your best."

The LLC students will be spending their daily lives working towards their goals as they encourage, learn and teach each other in their shared-rooms with domestic and international students.