On Friday, July 3 2009, two Indonesian Executives from the Embassy of The Republic of Indonesia in Tokyo, Head of Education and Culture Prof. Dr. Edison Munaf and the Chief of Immigration Mr. Mirza Iskandar visited APU at the invitation of the APU student circle "APU Ina"* and enjoyed a discussion with APU Ina, members of the APU Indonesian community, APS Senior Lecturer DAHLAN Nariman and APS Professor Hary GUNARTO.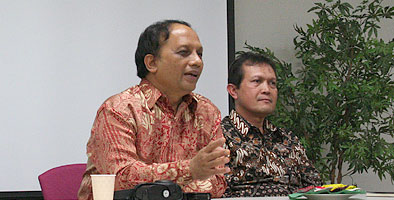 The executives were invited to the APU campus to meet the Indonesian student body and witness Indonesian Week which was underway at that time.

Later the Indonesian executives enjoyed a chat with Vice-President COOPER, Vice-President and Advisor to the President YAKUSHIJI Kimio, and Professor SANGA-NGOIE Kazadi, the Dean of International Cooperation and Research.

In the first chat session, a range of issues were being raised and discussed with APU Ina, such as administrative matters regarding Indonesian passports, scholarship opportunities for students in Japan to study in Indonesia and the general election held in Indonesia on July 8th 2009.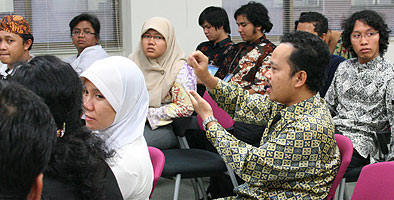 *APUIna was established by Indonesian students in 2000 and consisted of 11 members. Today, the organization has grown larger and serves the purpose of uniting the 183 Indonesian students in APU. In addition to helping the Indonesian students who are away from home to cope with the university life and to adapt with different cultures, APUIna also aims to promote Indonesian culture to fellow global citizens in APU through its continued involvement in the annual multicultural week. Moreover, APUIna also participates actively in joint-events and community projects with volunteer organizations and circles, such as the joint-project with "Hoshizora", an organisation established by APU graduates that provides aid and educational support to poor Indonesian children.

Reporter, Student Press Assistant (SPA): NUGROHO Katarina Marsha Utama
(APM3, Indonesia)