On the evening of July 17th, 2009, a long queue of people formed in front of the Millennium Hall in anticipation of the Thai Week Grand Performance. Thai Week was the fourth Multicultural Week to be held this semester and follows Vietnamese Week, Chinese Week and Indonesian Week.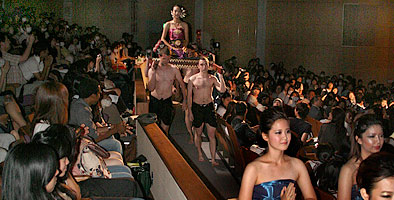 The theme this year was "The Four Enchantments of Siam" and the show was divided into four sections each representing one of the major kingdoms of Thailand: The Lanna Kingdom (north), Sri Cortabul Kingdom (northeast), Ayutthaya Kingdom (central) and Srivijaya Kingdom (southern).The story itself tells of the King of Thailand Empire who is searching for the perfect prince for his little princess in order to bring prosperity and joy to the kingdom.

The glamorous performances of the professionally managed and executed show deeply impressed the audience with the impressive opening and thrilling ending of the "Muang Thai Fighting" performance.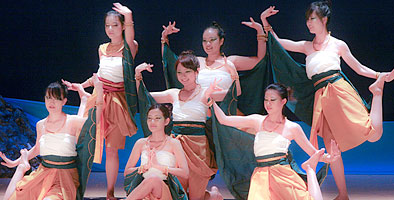 As a member of this year's Thai Week Executive Committee, KATTIYAVONG Pimkarn (APM4, Thailand) spoke of her impressions, "Even though we were expecting a larger audience, we were pleased to see that they enjoyed the show so much. We've been putting a lot of effort into making Thai Week a reality. Everybody did their best and we managed to pull it off in the end."

After watching the show, RANDY Remigius (APM4, Indonesia) gave his impressions of the show, "The performance was great! The opening was stunning, the decorations were awesome and the costumes were charming. My personal favorite was the Muang Thai Fighting performance and I enjoyed it so much."

Multicultural Weeks are held to let students express their creativity and introduce their country's cultural uniqueness to the APU community and general public. The final addition to the multicultural weeks for the spring semester, Korean Week, will be held until Friday, July 24. We hope to see you there.

Reporter, Student Press Assistant (SPA): Raz Arisyi Fariza (APM3, Indonesia)