On Wednesday, June 15 the Spring 2005 Conferral Ceremony for Scholarships and Awards was held at the APU Convention Hall.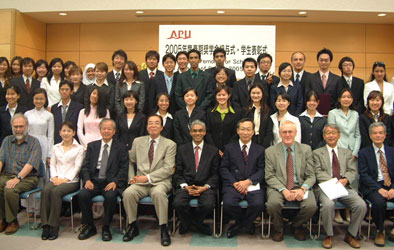 The APU scholarship system aims to encourage and provide assistance to students who have excellent results and have actively pursued extra-curricular activities. Seven groups and 55 students were commended for their scholastic ability and activities during the fall semester.
Six students were awarded the ANDO Momofuku Scholarship which aims to encourage and support students who have outstanding records and personalities and have played a leading role in various activities. HASAN Eid-Ul (APS, Bangladesh) gave a speech on behalf of the ANDO Scholarship recipients and said, "I hope APU be able to continue contributing to the Asia Pacific region. And that this will lead to the promotion and positive contribution to the local area in Oita."
Please refer to the following
link
for a list of recipients.
For details please refer to Campus Life at the following
link
.