APU has maintained a high job placement rate since it first opened and offers a range of career development programs to support students in their path to employment at the company of their choice such as career development lectures and extension classes. From the early stages of their university life, APU students are provided comprehensive support in their career development such as workplace experiences, internships and on-campus recruitment.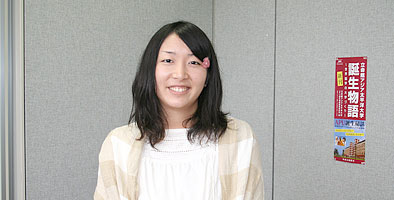 Through internships, students experience working-life at a business or organisation of their choice which is related to their future career. Brought about through industry-academia-government cooperation, internships are an important part of human resource development programs and therefore APU is actively involved in this process and is incorporating credit acceptance systems. Many students will again this year take advantage of the summer holidays and participate in internships.

HIRATA Mariko (APS3, Japan) used the first week of September to complete an internship at the METI, Kyushu Bureau of Economy, Trade and Industry –in charge of the seven prefectures of Kyushu. During her internship, Ms. HIRATA was assigned to the International Affairs Division and learnt about the Bureau's initiatives to expand the overseas markets of Kyushu business and industries.

Ms. HIRATA spoke of her impressions of the internship, "I was able to hear not only from the Bureau staff but also from the managers of small-mid sized businesses about the current state of Kyushu businesses and business expansions overseas. It was a great opportunity for me to think about my future in a wide scope of fields. I also had the opportunity to present my own business plans. It was a very fruitful few days of training".

APU will continue to provide students with a range of internship opportunities, deepen links with businesses and industries, and continue with the further improvement of the content of internship programs.