On Saturday, December 2, 2009 the APU student event organisation "Beach 69 trip Oita" held BEACH ROCK TRIP 2009 in OITA, a talk-show and music event in Beppu City.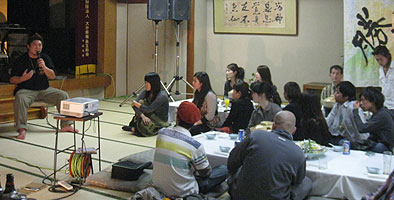 Members of "Beach Rock Village" delivered a talk show and gave a live music performance with local Oita Prefecture artists. Beach Rock Village is a "nature-experience" style accommodation and tourist facility in Okinawa that aims to be both self-sufficient and kind to the environment. In addition to this, participants took part in "Yuntaku* Time" and enjoyed chatting and deepening their friendships over a meal of Japanese stew.

During the talk-show, Beach Rock Village representative, ARAI Akihito, spoke of the difficulties they encountered gaining community support when they first set-up Beach Rock Village, their management policy, the life-style of their facility staff members, and more. Members of the local community interested in self-sufficiency and facility management came along and took part in a lively exchange of ideas and opinions. Amongst the crowd was an APU graduate managing "Toki no Kakera", an accommodation facility in Yufuin under the same concept.




Beach 69 trip Oita representative, HATAYAMA Tomomi (APM4, Japan) reflected on the event, "Many Beppu City locals also came along in addition to APU students and they helped us to create the easy-going atmosphere in which the event took place. Furthermore, we have built up a number of connections with members of the community through this event. I hope to hold further such events in the future".

Beach Rock Village
http://www.shimapro.com/about/soul7.html

Yufuin "Toki no Kakera"
http://www.toki-no-kakera.com/

* "Yuntaku"
Means "to chat" in the Okinawan dialect. It refers to the communication culture in Okinawa past down for generations in which people come together and chat at a round table regardless of age or gender.