On Tuesday, December 22, 2009, a signing ceremony was held at the Oita Prefectural Office to conclude the Friendship and Exchange Agreement between APU and Usa City. Usa City – with is historical relics of the Nara Period and beautiful natural environment – and APU – which aims to nurture global human resources as an international education and research institution – will attempt to further strengthen their relationship through this exchange agreement.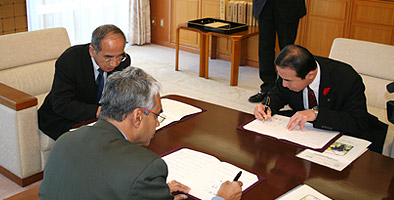 Present at the signing ceremony from Usa City was Mayor KORENAGA Shuji, and APU President Monte CASSIM who signed the agreement along with Governor of Oita Prefecture HIROSE Katsusada who acted as official witness.

With a population of approximately 62,000, Usa City was formed in March 2005 with the amalgamation of Usa City, Ajimu City and Innai Town. Situated in northern Oita Prefecture, the City is well loved by people both within and outside the Prefecture for its historical heritage sites such as USA Shrine, Tozai Temple, Heishi stone monument and green tourism which makes use of its abundant nature full of variety from the coast, the mountains and plains.

APU was opened through the kind invitation of Oita Prefecture and Beppu City, and considers the internationalisation and revitalization of the region to be one of its central missions. APU has now concluded 13 Friendship and Exchange Agreements with autonomies and organizations both in and outside of Oita Prefecture including this agreement with the Usa City. Every year over 1000 students participate in exchange programs both in and outside the Prefecture and are making their contribution to the regional community.